6 Questions: with… The Q4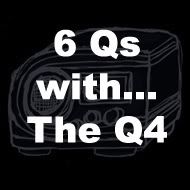 This is the second edition of 6 Questions, after the debut featuring Sonny Noir of the Riot Control podcast a few weeks ago. This time round we have Dutch production maestros The QuadrophoniQuartet – but not just one of them speaking on behalf of the group, oh no siree, answers from each of them to every question! With this dedication they are really spoiling us! You may recall the Q4 from Unearthing MySpace Gems last year – they are a Dutch trio with an emphasis on jazz, hip-hop, and just general fat beats, but hey, let them tell you themselves…
1. Who are you?
Sense: My name is Sense, or when amongst family, Daniel Tiuri Wils. I live in Amsterdam and I'm 21 years old.
STW: I'm Robbert Reus, also known as STW. I've got a beard.
Arts: My name is Bas, or Arts The Beatdoctor. I don't have beard but I'm pretty recognizable by my glasses.
Sense: The sense is tall dark and handsome, and walks kind of funny.
2. What do you do?
STW: I'm always in-between jobs, kind of like Donald Duck, but apart from that I make music. I play guitar in a rock band and I freak with samples and any instrument I can get to make some sort of hip-hop-like songs, without raps. So I add lots of samples to keep it interesting. I like to join jam sessions in local bars too. My role in The Q4 is kind of a combination of this all.
Sense: Basically what I do is build with whatever skill I'm blessed with, to try to make something out of nothing. I do a lot of music, I usually have about 4/5 projects running at a time, preferably with a lot of different people. Apart from that I do some graphical stuff, I have a t-shirt company for which I do the designs and such, and I also run a web/graphic design business. I also paint a lot of canvasses, make stuff from old records or, do some cartoons et cetera. Basically how I make music, is by taking a piano solo from say an old Duke Ellington record, chop it up into individual notes, and pitch/rearrange them to form a melody. I might then pick up a Ray Brown record to take some base notes of to create a baseline under it in the same way. In this way I'll keep adding things, varying from Nina Simone vocals to Afghani strings to dolphin sounds to create really orchestrated, hip-hop/jazz/dnb/dub beats, almost alike film music. Due to the amount of samples that usually go into these tracks (varying from about 300 to a 1000 and up), the fact that I have to look for fitting sounds on old records, and the unfortunate truth that I don't know the first thing about notes and chord-structures; these 'musicollages' can take me anywhere from a day till up to a year to finish. Generally I make instrumental music, based on such a sample structure. However I might record musicians over the track, to add say a sax solo or a baseline with a more 'live-feel' to it, and have also started to work on several projects with mcs/poets/singers.
Arts: Sense said it all.
3. Why do you do it?
STW: A while ago the bartender begged me to play, to stop an annoying piano player from playing his evergreens. I also have the urge to win online beatbattles, must be vanity. Sometimes Sense gets mad when I don't do much. So basically, I just have to.
Sense: Haha. Yeah…
Arts: This is what I do! I like nothing more.
Sense: There's several ways of leaving this place, most of which are destructive, and will leave you with nothing but a hangover. Except for a number of art forms, who are constructive, and leave you with something you've created to smile at the next morning. I found the latter is better in my case.
4. So what's new?
Arts: Next week my solo album (Transitions) will drop in Japan (through P-Vine), next month in the rest of the world, and then my Arts Live band tour will start. I'm pretty curious how the world will react – my EP (Fragments) did pretty well, so this is about to be a very fun time. Next to The Q4 and my solo projects, Quintessence (who plays most of the instruments on my album) and me started Quanda Productions, we focus a bit on the more vocal side of music. Apart from that I've started a remix project – the next few months I will be mainly doing remixes, and get on as much releases as possible with that.
STW: Everyday I'm making new music. It keeps adding up. Today I was working on a kinda corny love song, a few days ago I made some drunk party-bleep-beat with a friend of mine and I was drummer in a jam session. There are no dates set but there will be more Q4 material, recordings with my band, some solo-stuff and crazy jam sessions this year.
Sense: With the Q4 we've done the 'Sound Surroundings EP', which we are still looking to release, while in the meantime finishing the full-length album. Then we're working on another album for the 'SellABand' project, for which we are one of the 2 featured artists, and we've started working on a live show. Apart from that I'm working on a solo EP/LP which will feature a lot of mcs and singers, as well as some instrumental tracks. And together with the brother Sotu I'm doing an EP as well this year, then there's some tracks I did for other peoples albums/compilations (Arts' Transitions LP, Far I's Blood Sweat & Lyrics LP, The 08Bar Compilation EP & Savoir Faire Records 'The crowd Movement Soundtrack' etc) most of which to be released these following 2 months.
5. Who are you listening to at the moment?
Arts: Soil & Pimp Sessions, pretty much all day. When I get tired of it, I put on some Bonobo or Amon Tobin. And then some Soil & Pimp again.
STW: Somebody just sent me a fucking Christmas song… but it's kind of cool 'cause it's played by the Muppets. And I hate Christmas songs less when it's not actually Christmas time. Today I have listened to a new beat of mine, The Mama's and the Papa's (Dream a little dream of me.. it's a scary song! Would fit a murder scene in a thriller perfectly) and some crazy old Dutch festival songs 'cause I was looking for samples. But most of the time I listen to alternative rock music or 60s music and stuff.
Sense: I don't really like Christmas songs in any point in time, but listen to a lot of different stuff. From hip-hop, funk, jazz, soul, DnB, reggae, DUB, 70s psych. Rock and even hardcore, to chanson, salsa, flamenco, son, samba, sufi music, qawali, blues or whatever else I might encounter that's got that essence. Different music has different qualities; Sufi music will 'take you there', while jazz can set more of an emotional vibe. While DnB or funk are rhythmical interesting the usually don't hold the power raw flamenco does. Different beats for different settings, while in the end its all the same in essence. Blues and Punk are as much Hip-Hop to me as Rap is, its all the same struggle. And in the end, like Mr Ellington said it: "If its good its good".
6. What's your best nugget of wisdom?
Sense: Focus Manifests. Know that you shape your world daily, you create your environment. So as Afu said it: "the key is self-mastery".
STW: Don't buy cheap cat food! The snob won't eat it!
Arts: I'll go with STW on that one.
Sense: well there you have it, the three wise men have spoken, get your cat the dining experience she deserves, and go buy that Q4 merchandise..fully functional sense action figures and STW lunchboxes are now available at retail prices at these following addresses:
www.theq4.com
www.sellaband.com/q4
www.myspace.com/sense9thelement
www.artsthebeatdoctor.com
www.myspace.com/stwstw
Thanks for the interest, if you have anything you want to say, know that all hate mail can be directed to: arts@theq4.com while all fan mail and indecent groupie proposals can be send to: sense@theq4.com.
OneLove,
TheQ4/QuadraphoniQuartet.
Well what can I say?! The Q4 went all out for that edition of 6 Questions! Big respect goes out to the guys for putting in such an effort, I really appreciate it. But genuinely now, these are some supremely talented individuals, and you may have spotted my mention of their Q4 EP in my Best of 2006 blog entry the other month – as I said then, nothing got in that blog entry to make up the numbers, and The Q4 are no exception. Definitely give those links, that Sense listed above, some of your precious time, you'll thank me for it later. I'll leave you now with a Q4 remix of the Nas track Hope…

Nas – Hope (The Q4 Remix)
>> download track
>> The Q4 website
This download link will expire on 21st February.
Useful links:
Download – Nas – Hope (The Q4 Remix)
All relevant Q4 links are listed above!