6 Questions: with… Flow Dynamics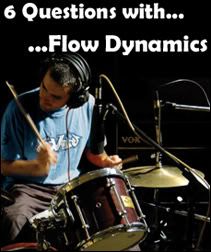 I've given you plenty of time to catch your breath since the last 6 Questions, so here is another one! Still on a funky tip, this time it is the turn of Aussie producer Flow Dynamics. Hot off the release of his debut album, this is your chance to learn a little bit more about the fella…
1. Who are you? Dave McKinney aka Flow Dynamics aka Soul Harmonics. Based in Australia.
2. What do you do? Flow Dynamics is my beats, breaks, funk, hip hop kinda project, and Soul Harmonics is my soulful house and nujazz outfit. I spend a lot of time in the studio, making tunes, and having a lot of fun. Music makes me happy. I like working with different artists doing collaborations and writing songs for different singers. I tend to play a lot of the instruments myself as much as possible, (bass, drums, keys etc) and if my playing sounds really crap then I'll enlist the help of my music friends to bring their goodness to the mix! I've got my own studio at home, so I record everything live and then chop it up and muck around. I love the combination of live instruments chopped up and processed in the studio. I'm also getting right into DJing with serato and using ableton live to make things interesting out on the road. I also work as a marine biologist when I'm not making beats. Gotta pay the bills! I do a lot of coral taxonomy, which is basically swimming around with a scuba tank on identifying coral species. It is very complex, and keeps me busy, but I like the balance between science and music. Keeps me refreshed and inspired for making tunes.
3. Why do you do it? Music wakes me up night. Keeps me up at night. Gets me up in the morning. I just love music. There is so much good music around, and so much music to be made. Back in 1992 I was at uni studying science, and had nothing to do with making music at all. I went and lived in Brazil for a year, as my brother had just got back from a student exchange there. He told me about how amazing it was, so I hit it for a year to check it out. After a year in Brazil, in such an incredibly musical place, where even an old grandma can play a killer samba on the table top, the music bug bit me for life. I got back home to Australia with a pile of Brazilian vinyl in my suitcase and went back to uni, It was then that I suddenly realised that music was what I wanted to do with my life. I started playing drums, and playing percussion in a traditional Brazilian percussion group with a bunch of Brazilians, and got into capoeira and all that. Then started playing in different bands and started listening to a lot of funk and soul. From there it was dj-ing around the place and playing live electronic gigs around Australia as Rhibosome. After that, it was onto my current Flow Dynamics and Soul Harmonics projects.
4. So what's new? The Flow Dynamics album has just been released on Freestyle Records in UK, Europe, US, and Japan, and in Australia on Invada Records. You can also catch a new release featuring Soul Harmonics on French soulful house label Jaffa Music. Touring to UK, Europe & Australia in September October. The Soul Harmonics full length album is also finished and will be coming out soon, plus I have a pile of upcoming remixes for Fort Knox Five, Flevans, Beatfanatic etc.
5. Who are you listening to at the moment? I'm into a lot of different music. Especially heavy funk, soul music, hip hop, afrobeat, nujazz, soulful house, drum & bass, broken beats, downtempo, afro latin, jazz, and Brazilian grooves. You can check a pile of my charts here: http://www.flowdynamics.com.au/charts/heavy.htm – Here's a few rekkids I'm digging right now;
Speedometer – Four Flights Up (Freestyle Records)
Lanu – Disinformation (Tru Thoughts)
Askillz vs Beat Vandals – Sunshine (Bombstrikes)
Featurecast – Avenue Rock (Good Groove)
Joss Stone / Yam Who Remix – Tell Me Bout It (Giant Step)
The Snugs – Strugglin' – Omegaman Remix (Good Groove)
DJ Day – What Planet (Milkcrate)
Rhythmagic Orchestra – African Mailman (Impossible Ark)
Zeca Pagodinho – Quando Eu Contar
Jazz Liberatorz – Ease My Mind (Kif)
Peter King – Omo Lewa (Flow Dynamics edit) (Forthcoming)
Bamboos ft. Ohmega Watts Get in the Scene (Tru Thoughts)
Marva Whitney – I am what I am (Freestyle Records)
Flevans – Apostles (Jack To Phono)
MItchell Dewbury Band – Beyond the Rains (Mr Bongo)
Mr President – Love & Happiness (Pusher)
Drum Lessons – Strings of Life (Sonar K)
Lack of Afro – Wait a Minute (Record Kicks)
Phiro Y Sus Carribes – Comenzos (Soundway 45)
DJ Graham B – It's Alright Now (Freestyle)
Sound Stylistics – Shake & Hip Drop (Freestyle 7″)
Sharon Jones – I'm Not Gonna Cry (Daptone)
Mark Murphy – Stolen Moments -Nicola Conte Remix (Verve)
DJ Vadim Talk To Me (BBE)
6. What's your best nugget of wisdom? Whatever it is that you do, do it with LOVE! It IS what makes the world go round. Spread that Love!

DJ Regal – Shock Ya Mind (Flow Dynamics remix)
>> download track
>> buy Flow Dynamics @ Freestyle Records
This download link will expire on 30th May.
There you have it, everything you ever wanted to know about Flow Dynamics… and then a little bit more! Thanks to the man himself for taking the time to participate, appreciated as always. Usual routine; like what you hear? Act on it. Add Flow Dynamics to your MySpace friends and make sure you cop that album!
Useful links:
Download – DJ Regal – Shock Ya Body (Flow Dynamics remix)