6 Questions: with… Ionik of Traveller Records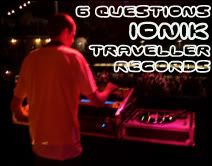 Via mailing lists, RSS news feeds, and word of mouth, I find out bout new 7″ records dropping half a dozen times a week. Sometimes I'll know the artist or label and therefore know it needs checking out, or other times it just sounds cool or looks interesting and I am inticed to delve deeper. A recent excavation unearthed a gem hailing from Finland: Traveller Records. The relevant communication links were opened and before I knew it Masa (aka Ionik) from Traveller Records had sent me a couple of 7″ records. The needle dropped and so did my jaw, "this is the shit!". Two hot hip-hop joints that have been lauded by the likes of Jon Kennedy, the boys at Fat Beats Records, and the good man Quantic. I grabbed a few words from Masa for this, the latest, 6 Questions…
1. Who Are You? Masa aka Ionik, owner of Traveller Records and a tireless fan of all things made of wax with a pinch of soul.
2. What do you do? Spin records, organize parties, snipe records at eBay, turn down requests, enjoy my new apartment, plus eat mostly this thing "lihis" which is kinda like meat pie but more exotic. I wish we had more snooker coverage on tv.
3. Why do you do it? I just LOVE good music.
4. So what's new? We just got the Sun Rise Above single out, that's going to be our last 7-inch. Next up is a two-part 12″ from Detroit that's looking to be big. It's our first step into more soulful side of things, that's all I can say right now. Also in the works is a compilation that's looking really promising right now, it should be out in late August. Another joint from Detroit also in the lab, so watch the skies people!
5. Who are you listening to at the moment? Mid sixties reggae, seventies soul, New Jersey garage, hip hop from back in the day, and I'm a big fan of late seventies/early eighties US boogie/disco/modern soul scene – the type of stuff that will get me to play louder than the club owners ever want! I just re-discovered my drum 'n bass jewels recently, summer is here folks.
6. What's your best nugget of wisdom? If not, why the f*ck not?

Sun Rise Above – Free Your Mind
>> download track
>> buy records @ Traveller Records MySpace page
This download link will expire on 22nd June.
Sounds like big things are going down in Finland! Thanks to Masa for taking the time to participate, much appreciated. Be sure to check out Traveller Records on MySpace and give Masa a shout at travellerrecords@hotmail.com if you have any questions or want to get your grubby fingers on some music!
Useful links:
Download – Sun Rise Above – Free Your Mind