6 Questions: with… Lack of Afro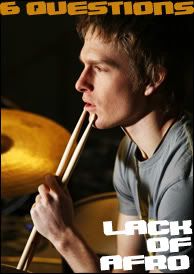 Been a short while since the last 6 Questions feature, but hey… I've got a fresh one! This time it is the turn of Adam Gibbons, aka British funk maestro Lack of Afro. Anyone thinking that funk died in the seventies wants to get their head tested, it's strong as ever, just gotta go that extra mile and search it out sometimes. So, without further delay, here's the low-down…
1. Who are you? Adam Gibbons, aka Lack of Afro. Born and raised in Exeter in the South West of England, I now live and work in London.
2. What do you do? I'm a producer and musician. My music tends to be heavy on the beat and is a combination of samples and live playing. Track creation nearly always starts with a sample that I can hear potential in – it can be anything from drums to horns or even the sound of an audience at a live gig, whatever. It's all about what triggers off an idea or what has the right feel.
I then play in other parts myself, sometimes bass, keys or drums – sometimes guitar or saxes. Live playing is something I'm passionate about because it adds that 'human' element which is sometimes lacking in sample based music. That's where the soul is – in the live playing. If I'm after something a bit different then I ask other musicians in to see what they can add to the track. Collaborations are something I'd like to do a lot more of in the future; I'm a bit like a sponge that way, soaking up as many influences as possible…!
3. Why do you do it? Music is engrained in me so I've never had to really think about what I do too much. It's just there – I can't really explain it. If you're a musician or producer then it never really leaves you, it's with you wherever you go. My Dad is a massive soul fan, so I grew up listening to a lot of Motown and stuff on Stax and Atlantic, as well as a lot of mod stuff. I think my style of production owes a lot to that era. It's not polished, it's just all about the vibe!
I take great satisfaction knowing that people are enjoying my music. Whether it's in a club environment or through something like MySpace, it's extremely rewarding when someone drops you a message to say that they're into what you're doing.
My initial ambition was just to get records released; now I'd just like to see people continuing to take pleasure in my music and on a personal level, to collaborate with artists that I admire.
4. So what's new? Another 7" on Freestyle featuring two deep funk covers; The Arctic Monkeys' "When The Sun Goes Down" and Dusty Springfield's "Spooky". Release date tbc.
Most of my energy is currently going towards finishing the Lack of Afro debut album. Entitled "Press On", it will be released on Freestyle records later this summer. It's 95% done and is sounding grand. Release date also tbc.
I've also just completed remixes for The Houdinis (Social Beats Records) and two for The New Mastersounds. One for a "New Mastersounds Remixed" LP for Record Kicks and the other for a compilation called "Soul Shaker Volume 4", also on Record Kicks. I'm also just about to start one for Diesler on Freestyle.
Finally, I've been asked to produce the latest LP from US soul band The Diplomats of Solid Sound, for release on Record Kicks due for release in Sep/Oct '07, as well as a remix for them too. Check www.lackofafro.com for details of all of those, and visit www.myspace.com/lackofafro to hear them.
5. Who are you listening to at the moment? Lots as always. Amongst others;
Bonobo – Days To Come (Ninja Tune), The Cinematic Orchestra – Ma Fleur (Ninja Tune), Eddie Roberts -Trenta (Salvos), Koop – Koop Island (Diesel), unreleased tracks from Funkshone, Nostalgia 77 – Everything Under The Sun (Tru Thoughts), Flow Dynamics – Flow Dynamics (Freestyle), The Sound Stylistics – Play Deep Funk (Freestyle), Solid Pleasure – Solid Pleasure (Afrokats), Smoove – Dead Men's Shirts (Acid Jazz), The Cinematic Orchestra – Remixes (Ninja Tune), N*E*R*D – Fly or Die (Star Trak), The Small Faces – Ogden's Nut Gone Flake (Immediate), Arctic Monkeys – Favourite Worst Nightmare (Domino), John Legend – Once Again (Columbia), Amy Winehouse – Back to Black (Island), Mark Ronson – Version (Columbia)
6. What's your best nugget of wisdom? This is really aimed at unsigned artists because it's something I struggled with. When looking for feedback on your material, try and ask someone who's either had tracks released before (that makes similar music to you of course – don't ask the opinion of a hard house DJ if you write classical music for example!), or someone who's involved with a record label that you'd like to be on. Once you've found someone who's willing to give you an honest opinion then hang on to them and ask their opinion on future projects. There are a lot of bullshitters out there who will just tell you what you want to hear and honesty can be hard to come by. Don't ask for friends' or family's opinion because (and this is through no fault of their own), they'll just tell you what you want to hear.
At the end of the day though, you have to be true to yourself, so if in doubt, always go with your gut feeling and always trust your ears. Press On…
What more do you need to know?! My thanks goes out to Adam for taking the time to answer the six questions, I really do appreciate it. The man lacking in big hair was also kind enough to share a track, it's one of my fav tracks at the moment, Roderigo…
Lack of Afro – Roderigo
>> download track
>> buy 7″ @ Freestyle Records
This download link will expire on 18th May.
Don't forget to add Lack of Afro to your MySpace friends, everyone needs friends right?! And spread the good word, the word of funk! It's all out there, just waiting for you to grab it!
Useful Links: