6 Questions: with… Unkle Ho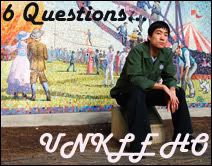 If you know your Aussie hip-hop you'll have no doubt tasted the fruits produced by this rather creative chap. Unkle Ho actually produces for The Herd, the group that brought us such tracks as Scallops, Burn Down The Parliament, and their cover of the classic I Was Only 19. Both The Herd and Unkle Ho are signed to Aussie label Elefant Traks, one that I am loving more and more as each day passes. The material released on Elefant Traks is not bound to any rules or constraints, full creativity is encouraged and I believe this helps the artists to flourish and deliver a more developed and well rounded end result. This is entirely the case with Unkle Ho's latest release Circus Maximus, but enough from me, let's see what he has to say for himself in this, another edition of, 6 Questions…
1. Who Are You? Unkle Ho, gypsy beats producer from Sydney, Australia.
2. What do you do? Produce music as Unkle Ho and also for 8 headed hip hop beast The Herd. I also help run Elefant Traks, the label that Unkle Ho and The Herd are released on.
3. Why do you do it? Started doing it for fun and haven't looked back. Hopefully when I'm an old man my crippling arthritis won't stop me from tinkering on music machines.
4. So what's new? Well funny that you should mention that, my second album Circus Maximus is now out in shops. People can listen to what I've been up to in the two years since the first one.
5. Who are you listening to at the moment? Lots of things, Waiting For Guiness' new album is great, this Russian band called Billy's Band, local Aussie band called Because of Ghosts and some top shelf dancehall from Mista Savona.
6. What's your best nugget of wisdom? Hmm, one who cuts his own wood is twice warmed…

Unkle Ho – Big Bad Rag
>> download track
>> buy Circus Maximus @ Amazon

This download link will expire on 11th June.
Usual etiquette applies; check out Unkle Ho on MySpace, get him added to your friends, then go buy the album! Seriously though, it is a brilliant album. I think I might even create a genre to cater for it… gyp-hop, cos those gypsy beats are banging! Thanks goes out to Unkle Ho for sparing his time to participate.
Useful Links: