Afro Strut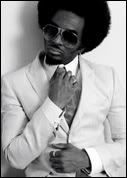 Guess who's back… back again? Amp Fiddler's back… tell a friend. Following up from 2004′s Waltz Of A Ghetto Fly, Detroit's funkiest fella is back with Afro Strut – twelve tracks of solid gold soul dynamite. Waltz Of A Ghetto Fly was immense, and certainly one of my albums of 2004, but Afro Strut sees Amp Fiddler return with a more refined product. The flavours have been blended in a more mature way, the end result is tighter and more pleasurable to thine ear. "But how can it better Waltz Of A Ghetto Fly?!" I hear you cry, well allow me to explain…
Where Waltz was mainly built around jamming and throwing those raw beats together, Afro Strut has a more intricate and personal feel to it. Everything is that little bit tighter and complete – but have no fear, the soul and the funk are still there, infact Amp's voice has never sounded better. He has an amazing voice, that's for sure, would be great to hear the end result of an Amp Fiddler and Dudley Perkins collaboration! Anyway, back to the subject at hand.
Twelve tracks on offer with Afro Strut, featuring appearances and efforts from such artists as; Tony Allen, Raphael Saadiq, Only Child, Larry Gold, and (Stephanie) McKay. The album kicks off with Faith, perhaps the most Waltz Of A Ghetto sounding track on Afro Strut. It has a funky guitar melody and kicking drum arrangement, certainly got my soulful little head nodding. This funky little number was produced by Raphael Saadiq. The next track, If I Don't, has a distinct period swing feel to it, with the lounge style clarinet inclusion and piano ditty. Definitely a catchy number and a good introduction to what will tell to be a more diverse sounding record.

Amp Fiddler – If I Don't
>> download <<
This download is a sample of the music only and must be deleted from your computer within 24 hours of downloading. This download link will expire on 14th September.
Right Where You Are was recorded in Manchester, England with electronica producer Only Child. I really like the energy to this track, it is layered with goodness, so many levels of summer sounds to groove to. Then comes track number four, Find My Way. Neo Soul head nodder, that's what this is – the subtle use of guitar is a real nice addition to this light (yet deep) track. Fans of soul funk will be in their element listening to this one. Empower is a slower number, more on a classical soul tip – I'm wondering at this point if there's anyone around today that does soul better than Amp Fiddler.
I Need You takes the album in a slightly different direction. This is funky stuff and incorporates an almost samba drum arrangement as well as funk guitar. I can just imagine people getting down to this one in a sweaty club. It even breaks down half way through with a reggae ditty. This has some dark and dirty bass going on too – great example of where the Fiddler is taking, and can take, his sound. You Could Be Mine tones it down a little, but still carries a great energy, plus it's a rare appearance of an Amp Fiddler duet, and it works well – although I'd be surprised if a voice like his wouldn't compliment someone else's. Stephanie McKay, who I think is amazing, appears on Heaven, and these two voices really do work well together! This is everything we've come to expect from Amp Fiddler; funky, soulful, catchy, ethereal, the list goes on, listen for yourself…

Amp Fiddler – Heaven
>> download <<
This download is a sample of the music only and must be deleted from your computer within 24 hours of downloading. This download link will expire on 14th September.
Seven Mile once again changes the direction of the album, the first thing you'll notice is the kicking beat, heavy and imposing. It often feels as if the funk and soul sounds of Amp Fiddler are fighting against each other, but don't worry, it's all good, they're just play fighting. This is a track about the part of Detroit that Amp Fiddler grew up in. The backing vocals play a key part of this track, definitely one for getting your groove on to. Funky Monday is like a reminder that Amp Fiddler was in George Clinton's travelling band the P-Funk Mob during the 80s, although no matter what angle he takes on soul or funk, he always does it in his own distinctive manner.
The penultimate track is Ridin' – this reminded me a bit of Jamiroquai, an artist Amp Fiddler has actually worked with in the past. It has quite a driven beat and energy to it, with cowbells, hand claps etc… This track is teetering on the edge of being a house track, yet still keeps one foot in the soul funk arena. Great for an album track, shows yet another bit of diversity on Amp Fiddler's part. The final track is Hustle, naturally positioned as the wind-down track for the album. It reeks of 70s soul funk, I part expected to hear a Barry White vocal come in. Still, Amp Fiddler's voice is more than an adequate match, albeit in its own very special way. Nice outro track with a fantastic string arrangement by Larry Gold.
Afro Strut is a great follow up to Waltz Of A Ghetto Fly, like I said before, it's perhaps more refined and mature as far as its core sound goes. It's always good to witness the natural progression of an artist, through their work. Essentially fans of soul and funk will love this record – but I always try to encourage people to keep an open mind, so there's really no reason why music listeners that usually don't get too close to soul and funk shouldn't give this a go either. Go on, try it, you might just like it!
Thanks to CVibes.com for providing the promo copy of Afro Strut.
Useful links: