Alice Russell – Live In Paris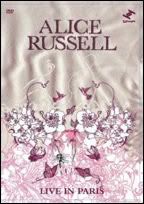 I'll cut to the chase, this DVD is an absolute must for all Alice Russell fans. Due for general release on 11th June, this 79 minute long presentation shows Alice and pals in all their musical glory. Recorded live in Paris last year it is set in a spacious, yet intimate, venue, jam packed with faithful fans from France (don't try and say that a few times after some drinks!).
Alice is accompanied by a fantastic band that includes TM Juke, Michael Simmonds, Benjamin Jones and Daniel Swaine and launch straight into things with the mellow Soul Felt. Highlights include; Mean To Me with fantastic fiddle work by Michael Simmonds, a brilliant cover of Andre 3000′s Dracula's Wedding, and of course the famous cover of Seven Nation Army by the White Stripes. The full set list looks like this…
Soul Felt
What We Want
Humankind
Taking Hold
Mean To Me
To Know This
Something That's Real
Search The Heaven's
Munkaroo
High Up On The Hook
Dracula's Wedding
Hurry On Now
Seven Nation Army
My Baby Just Cares For Me
Fly In The Hand

Alice Russell – Seven Nation Army (feat Nostalgia 77)
>> download track
>> buy Under The Munka Moon II @ EtchShop
This download link will expire on 28th May.
The production quality, on what is amazingly the first ever DVD from Tru Thoughts, is superb. All recorded with three cameras on the night, the final edit is simply sublime. There are no swanky DVD menus and extras, but there doesn't need to be – a great example of WYSIWYG, the main event is all we need. The good news is that this wont be a one off, expect more DVD releases from Tru Thoughts. Rumour has it the next one will be a live recording of Spanky Wilson and The Quantic Soul Orchestra, so look out for that one later in the year!
Back on subject, Alice and co. clearly show what great entertainers they are on this DVD and give those that have never seen her live the opportunity to see what they are missing, and those that have seen her live a choice reminder of what they have seen previously. Only a few weeks till this one comes out officially, so make sure you remember to pick it up! You can get this directly from the EtchShop or at Amazon
.
Useful links: