Back To Black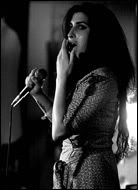 Amy Winehouse is back… Back To Black. I've waited patiently for three years since 2003's brilliant Frank, and now the time has come – alas this fine day I have a review for you. At just a month younger than my good self (23) Amy has already proved with Frank that her voice is mature beyond her young years, that strong and soulful jazz explosion – but three long years later, what's different? Well…
Back To Black is eleven tracks long and kicks off with Rehab, the first single off the album. Instantly it is plain to see that Amy has shifted from her classic jazz singer stance to old skool 50s/60s r&b. This track is great, so soulful and catchy – it is pop music, but with so much more appeal. In theory it could perhaps seem a little trite to 'copy' the sound of the old r&b girl groups, but this is pop music, no-one else is doing it and it sounds damn fresh! The track tells of Amy's past experience at refusing to go to Alcohol Rehab, so as ever her personal life-commentary appears in her music – but I like that, it's very raw and honest. You Know I'm No Good is the second track and it has a killer beat, drawn out intro accompanied by bass, then in comes the Winehouse rhymes. I get the impression that if she wasn't such a good singer… she'd be an emcee. I love the layers to this track; the beat remains constant, but the brass stabs and appearances add such character – fantastic track.
Track three is Me & Mr Jones, and it has the classy lyric of "what kind of fuckerry is this?" – this track is smooth though, a bit calmer than the previous two, but it still gets your head nodding. It's one of the shorter tracks on the album at two-and-a-half minutes long, but it is fitting to the style of song, proper girl group slow harmonising type. Just Friends comes right after and it has a bit of a slow reggae thing going on, but real subtle. It's a nice song, but not outstanding, specially coming after Rehab and You Know I'm No Good – to be fair it could be a grower, but for now I'll just accept it as a pretty good album track. The title track, Back To Black, is next and it's a killer. The piano melody, r&b/jazz drums, and Amy's voice come together to create a song that sounds like an instant classic. It's not a get up and go catchy track, but more a slow and deep affair, even building up with strings before reaching an eerie emotional breakdown. Brilliant.
Love Is A Losing Game kicks off the second half of this long-player, a slow track with delicate moments. Although strictly speaking it is a good track; great lyrics, structure, use of varied instruments, there's something lacking ala Me & Mr Jones – and that isn't to say it isn't a good song, cos it is, just that its subdued nature almost plays against it, an alright album track though. Things pick up again with Tears Dry On Their Own – listening to the intro I was expecting The Supremes to start singing, but as ever Amy does a good job on her own. This one will get you moving, it is bustling with energy and rhythm – it has plenty of 60s influences, although I don't think you have to be a fan of 60s soul to enjoy this – it's easy listening with an added pinch of soul…
Amy Winehouse – Tears Dry On Their Own
>> download track
>> buy album @ Amazon UK

This download link will expire on 11th November.
Wake Up Alone has a long intro that breaks into a deep slow drum break, then Amy comes in, this is the blues. Imagine the more bluesy tracks from Frank, but with an emphasis on the 50s/60s r&b sound – that's what it sounds like. The vocals are interesting, they remind me of I Heard Love Is Blind. I really like this track, it's unassuming in the sense that it doesn't try too hard to be anything, but still manages to captivate. It's really quite beautiful. Then we have Some Unholy War, it continues the blues feel from the last track, but perks it up just a notch. It reminds me of a slower bluesy Lauryn Hill track, brimming with soul. Strictly pop fans might not appreciate this track, it isn't catchy and is pretty slow, but Winehouse fans should still lap it up graciously.
He Can Only Hold Her is the penultimate track and it's a good'n. Now this one is catchy, but it loses nothing in the integrity or style ranks, that's what has impressed me about the more upbeat tracks on this album; they're catchy, but still really quite indepth and fulfilled. The brass and harmonising, coupled with the killer drums really adds a tonne of character to this one – listen out for the subtle guitar too, it all matters – even if you don't know it! Addicted is the final track, pleasant enough and in possession of a pretty hypnotic melody – nice outro stuff with all the brass and even a spot of wood. The narrative is brutally honest as ever, from the sounds of it Amy is saying she's digging the green and 'he' should just stick to his own.
First off, it's a really good album, make no mistake. However, I really am very eager to know what other people think of it – I mean it is being marketed as a pop record, and those pop guys are pretty fickle at the best of times. From what I can presume, the average pop fan will probably like the more upbeat tracks, but perhaps not really appreciate the slower tracks and maybe deem them as being a bit 'boring' – but, I think any true fans of 50s/60s soul and r&b will really like this, it's not just that Amy has copied elements from old, it is totally true to its roots. To be honest I don't think there is too much point in comparing this album to Frank. Frank was more lounge jazzy in a poppy kind of way, and this is mainly old skool r&b – Amy's voice is as strong and impressive as ever, but there's no need to claim one album is better than the other. There is of course the chance that you personally may prefer one over the other, but I have broad tastes and I can appreciate both. Buy the album just for the more upbeat tracks if you are a fickle pop fan, the others might just surprise you – and to the more open minded listener… do what you're famed for, listen to it anyway. Top album.
Useful links: