Breakestra @ The Columbian, Brisbane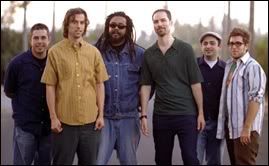 First off, sorry (sincerely) for the lack of action lately, I think I'm slowly getting into the swing of things with this new job and managing my "me-time" – plus I was reading issue #10 of the incredible Wax Poetics magazine on the train home today, and it really inspired me to get writing again. I don't want to be rigid and make promises I wont keep, so for now let's throw out the window all talk of doing certain things on certain days – I'll just write about what I want and when I can – if that encompasses other peoples' desires, then great, that is what this blog was always meant to be about. So, as the title suggests, Breakestra played at The Columbian in Brisbane, it was last Wednesday night and I was lucky enough to be there.
Bout a month or so ago I read that Breakestra were coming to Australia. If you are familiar with Breakestra then you'll know that it didn't take me more than a millisecond to confirm I would do everything I could to see them. If you aren't familiar with Breakestra and you like your music with a heavy dose of funk… then consider this your official instruction to check them out with immediate effect. Breakestra are a ten-piece band fronted by a chap named Miles Tackett – they are often labelled an hip-hop orchestra/funk band/soul group, take your pick but I'm sure you get the idea. They've been around since 1996 and hale from Los Angeles, California. For the most part of their existence they were a live covers band, reproducing funk and hip-hop classics with style and grace. However, just last year they released their first LP containing entirely original material; Hit The Floor, on Ubiquity Records. The album is unreal, a fusion of ye olde influences and fresh execution. From start to finish it contains what I can only describe as a funky excursion into an orchestrated world lacking in pretension and generously overstocked in the department of exquisite instrumentation. These words not to be taken lightly must surely explain why Breakestra coming to town is nothing but a good thing.
The day of the gig arrived and I had to figure out a way that four of us were going to get back from the city (an hour away from 'home') at two in the morning. In the end the best I could do is book a taxi costing $60AUD… "hmmm, more than worth it for Breakestra", I thought. My companions and I arrived fashionably late by train, catching the last15 minutes of the support act; Neighbourhood Groove Collective, who were from what I heard very good. For the next half hour or so British funk DJ Russ Dewbury kept us all happy on the decks, playing everything from Tru Thoughts' finest, right back to the rarer stuff – it was the funky warm up we all wanted. The moment arrived and Breakestra made it to the stage; bassist, lead guitarist, Korg player, saxophonist, trumpet player, bongo hitter, drummer, and soul singer Choklate. In honesty, the next two hours are a blissful blur. I remember being uniquely amazed at individual times with each member of the band – one moment it was Marshall Thompson on the keys, then the next it was James "The Penguin" King on the sax, each taking their turn to amaze the hell out of me. Lead man Miles Tackett is stellar in his role of singer/bass player/bass guitarist and was backed up beautifully by the immensely talented Choklate. One highlight for me was when the band played their album track Family Rap, which usually features Chali 2na, Soup, and Double K, naturally those three fellas weren't there, so Choklate actually rapped all three parts herself – she did the track proud, really good stuff.
Breakestra – Family Rap (Feat. Chali 2na, Soup And Double K)
>> download track
>> buy album @ Amazon US
/ Amazon UK

This download link will expire on 4th December.
The two hours Breakestra played were non-stop, seriously not one stoppage in play, and they contained a mixture of improvised covers and their own material – often teasing with a cheeky bar or two of a crowd pleasing funk and/or hip-hop classic – these guys really knew how to play the crowd and their immense collective talent evidently did all the proverbial talking for them. One major thing I noticed was that the atmosphere inside The Columbian was so cool, everyone was relaxed and just concentrating hard on what was unravelling before their very eyes – so much so that people were hardly talking to each other. It felt like a two hour long funkadelic trance that you never wanted to end. When they finally wrapped it up, sweat soaked, they walked off stage and through the crowd to a multitude of appreciative back-slaps… then the claps started for an encore, getting louder and louder as each second passed. Within a few minutes our wish was their command and back up they went. It sincerely felt like those last few tracks were a thank-you from them to us for being such an appreciative crowd, but in all honesty it genuinely felt like we were still immensely indebted to them on that front. The Columbian proved to be a worthy venue, intricately laid out to keep it all feeling small and intimate (in a non-romantic way!), it would be interesting to know what Breakestra themselves thought of the gig, but all I know is that a couple of hundred people left that place feeling a thousand times happier than when they went in, big smiles all around – if you ever get the chance to see Breakestra play live… just do it, you'll always regret the things you didn't do, more than you'll ever regret the things you did do.
Useful links: