Crazy Itch Radio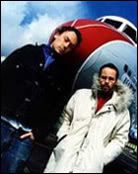 Basement Jaxx return with fresh material. It's always a worry when a greatest hits (oh, sorry, more trendy these days… The Singles) CD is released by an artist or group – always sews the seed of doubt as to whether we've seen the last of said act. Alas, avert your fears, Crazy Itch Radio is the new album from the Jaxx, and it's a scorcher.
The 14 track offering starts with a very dramatic opera style Intro that left a friend of mine saying "that's the sort of thing you hear and wonder why you didn't think of it first." The opera vocal climaxes at repeated screams of BASEMENT… JAXX! Straight after that is the track getting tonnes of airplay right now; Hush Boy. I read somewhere that the dudes wanted to give this album the feel of a bustling pirate radio station, well although that's pretty vague, I think I get what they mean and Hush Boy certainly sets the tone. Think of this as thumping dancefloor pop – you're all officially allowed to call this pop and like it, no shame necessary. The female vocal screams cheese, but damn tasty cheese, plus that Cookie Monster'esque vocal "if you want me for your girlfriend!" is very addictive. Hush Boy sets a precedent for this album that basically says… "you're not gonna sit still at any point through this record."
The album uses a few clever interlude tracks to keep up that radio station feel, it's pretty quirky by all accounts. Take Me Back To Your House is like dancefloor country music, but it works so well. The actual chorus should by all means irritate the fuck out of you, but those damn Jaxxsters have this particular angle on dance music that just makes it sooo appealing! It's a fantastic track, you'll be singing along in no time. Hey You has heavy beats in the style that we've come to expect from Basement Jaxx, but the carnival style brass is a nice touch. There's something quite ABBA about this track, not perhaps specifically ABBA, but that whole style of old disco chorus, that era anyway. This is an infectious track, but personally it's not quite up there with the previous two tracks.
Basement Jaxx – Take Me Back To Your House
>> download <<
This download is a sample of the music only and must be deleted from your computer within 24 hours of downloading. This download link will expire on 23rd September.
On The Train welcomes soulful male vocals and swing jazz style sounds. It's good to hear something equally as addictive as the previous tracks, but in a different vein. On The Train has as much energy, but directs it in a different manner – the organs, the brass, the jazzy drums, it's a rhythm and blues extravaganza. Up next is Run 4 Cover, a tribalistic carnivaltastic M.I.A. meets Lady Sovereign type fix. It will be interesting to see how these tracks age, as I mentioned before (with regards to Take Me Back To Your House) it feels like you should find this irritating, yet don't – over time will it lose its appeal? We'll find out, but for now I love it. It's lively, funky, addictive, and upbeat, check it…
Basement Jaxx – Run 4 Cover
>> download <<
This download is a sample of the music only and must be deleted from your computer within 24 hours of downloading. This download link will expire on 23rd September.
Another interlude comes next, some rude bwoys chatting over chilled beats. Then enter Smoke Bubbles. This is a killer track – the electro samples and heavy beats really kick it. The female vocal is smooth and soulful, with a pinch of attitude. Imagine if Basement Jaxx produced the next Kelis track, it might sound like this. Those with the sharp ears might catch the same (or at least VERY similar) string sample Busta used in Gimme Some More, bonus points to you. Lights Go Down is the next track and it takes the album onto a different mood. The energy is there, but once more applied in a different manner – Lights Go Down is a more atmospheric track. A short intro brings us to Everybody, an electro disco track. This is sample heavy with beats just as heavy as the samples, probably one of the more disco dancefloor filler type tracks on the whole album, best get your dancing shoes on!
Keep Keep On is the penultimate track on the album. It's a more downtempo summer chilled type affair. The soft brass, trip-hoppin' slow samba percussion, and electro samples are matched in beautiful harmony with the angelic female vocals. Nice chilled track. Finally we have U R On My Mind. An eerie string intro brings us into an infectious dance beat and vocal harmony. Certainly a good outro track, it seems the order of the tracks on this album has been spot on. Hidden at the end of this track is another… track. A downtempo track with bassy beats and smooth vocals – like a Jaxx go at trip-hop.
First thoughts; this is a great album, I love the infectious energy. First concerns; no tracks I feel much like putting on repeat, will it get tired quickly? There's no hiding my appreciation for this album – it's a breath of fresh air and I did get that feeling of crazy radio vibes. But although I liked some of the tracks more than others, there didn't seem to be any stand out tracks – that's ok in the sense that this feels like a proper album that you should listen to fully, but will I return time and again? Only time will tell if this album will get boring quickly, the seed of doubt is there, but for now I love it and I'll continue to listen with optimism. Well done the Jaxx.
Useful links: