Dilla: Gone But Still Strong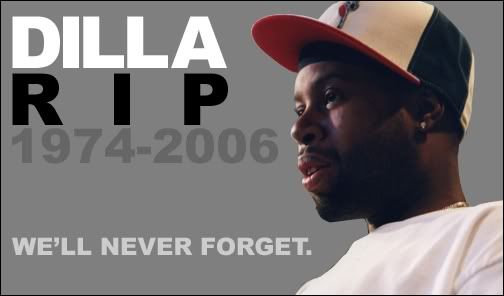 James Yancey would have been 34 years of age Thursday just gone. That is no age. But as someone once said "when your chips are up… your chips are up" and James left this crazy casino of a world two years ago tomorrow (Sunday). Jay Dee was an incredible talent and a hugely respected artist amongst his peers, taken from us prematurely, leaving a legacy that has gone from strength to strength.
Each Dilla fan jumped on the Yancey-Express at different stations along his musical journey, but it is pleasing to see so many people getting joy out of his work, both recent and from way back. For many it has been a cathartic experience, and an exploration, to work their way back through his credited work with a diverse array of artists. If I had a penny for every time I heard someone say "I had no idea Dilla worked with Pharcyde!", I'd nearly have as much money as Kanye West!
Steve Spacek – Let The Dollar Circulate
>> download track / YSI
>> visit Steve Spacek @ MySpace
This download link will expire on 16th February.
"Jay Dee was a producer's producer, and not just in a press-release way. The dude made us all feel wack in a way that I can't even explain to you. He was real black music with the soul out there on the floor, pushing every angle to take soul places it has never been before. He took sounds from other dimensions and infused soul into them. He made exactly what he wanted to hear and didn't think of how it was gonna sound on an A&R's table – and he walked away with every shred of credibility and creativity that we all wish we had.

Technically, he was a genius. Not a technical nerd (I wish he was), but really he was just that good – almost like he was from another planet. If God gives talent, Jay's was hip-hop, and he even kept God guessing. Dilla invented trends, never followed 'em." - Diplo.
I don't know if there'll ever be another producer quite like Dilla, but he has influenced many. And don't be mistaken, he was heavily influencing people way before his passing (like Diplo said above), it's just like so many stories told, it can take a tragedy to open up some eyes.
"J is absolutely the most influential producer to bless the boards in the past decade, period. His talent spawned a whole new sound in hip-hop, R&B and soul music. I can honestly say that I have developed a bit of Dilla-ism in my approach to making beats at times. He was undeniably every producer's favorite producer. He kept cats on their toes and was always ahead of himself. His vibe was infectious, electrifying and mystical. J. Dilla is an innovator and a true legend of our generation. I'm going to miss him." – DJ Spinna.
DJ Spinna – Dilla is the G.O.A.T.
>> download track / YSI
>> buy Dilla is the G.O.A.T. @ Turntable Lab
This download link will expire on 16th February.
J.Rocc has released the third and final part of his mixes dedicated to the memory of Dilla. You can find links to the podcast and downloads at the Stones Throw website. Also check out this mural painted just outside Paris…

"Certainly one of the most important producers of our time. Apart from his incredible impact on music, which we all know about, my most poignant memory of Jay Dee was simply how humble and modest a fellow he was. Meeting him the first time I was filled with trepidation that he'd be this overbearing hip-hop monster, all blinged up and stuff, so you can understand how relieved I was when we got straight into a conversation about Cal Tjader. Pure music, man. He'll be missed." – Gilles Peterson.
The Roots – Dynamite!
>> download track / YSI
>> buy Things Fall Apart @ Amazon
This download link will expire on 16th February.
We'll never forget. RIP James.
Useful links: