End of Year Musings
It is nearly time to bid 2006 a fond farewell. 2006 has marked my second full year in Australia, and somehow I've still maintained my English accent! I do believe that writing this blog has made me even more attentive towards a subject I was already so passionate about, but either way it does seem that 2006 has been a fantastic year for music. I'll be writing my "best of 2006″ style blog post very shortly, so look out for that.
I doubt this is fresh news to anyone, but The Godfather of Soul, James Brown, sadly passed away at the age of 73 on Christmas day. James was admitted to hospital on Christmas Eve after his dentist noticed that all was not well. It turned out that he had pneumonia. The official cause of death, according to his agent, was heart failure. It's strange cos literally just last week I was thinking to myself how amazing it was that we still had one of our musical pioneers living with us, and then just like that, we lose him. It certainly is a tragic loss. James Brown was a natural born performer and he gave it his all right up until the end – he will be dearly missed.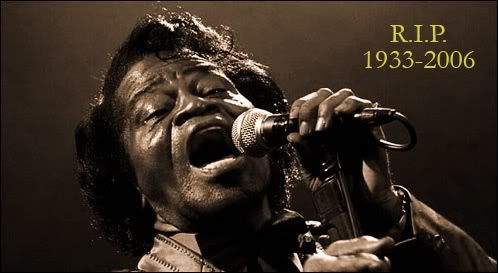 Coldcut and Steinski – Lesson Two (James Brown Mix)
>> download track (YSI)
>> Coldcut website
This download link will expire on 5th January.
On a different note, I've uploaded Volume 5 of the Just Like Music podcast. I've had fantastic feedback for it so far, but a few people have been asking for track listings. There isn't really enough room in the relevant field to put all that info with the actual podcast, so I'll just give you the tracklisting here…
1. Ammoncontact – With Voices
2. Spank Rock – Sweet Talk
3. Dr Who Dat? – B-Boy Portrait In Spain
4. Amon Tobin – Big Furry Head
5. Aim – Aberdeen
6. Camille – Baby Carni Bird
7. Easy Star All-Stars – No Surprises
8. Alice Russell – Hurry On Now (Boub Remix)
9. Sigur Ros – Staralfur
I get quite a lot of space with my podcast host, and as such all five volumes are still available. Want to know what all the fuss is aboot? This is the feed URL once more… http://www.switchpod.com/users/justlikemusic/feed.xml – there should be somewhere an option within your media player to subscribe to a feed, this is where you would paste the above link. I know in iTunes you just click 'Advanced' at the top of the screen, then select 'Subscribe to Podcast…' – so should be something similar for other types of software.
Useful links:
Download – Coldcut and Steinski – Lesson Two (James Brown Mix)