Guess who's back?!
Yup, it's me. Sorry for the huge gap in posts, I hope my semi-regular podcasts have been keeping you entertained? So much great music coming out all the time, we truly are spoilt. Anyway, as this is the first post for a while it will basically be covering (briefly) a range of topics – there's a lot of stuff you need to check out.
I featured one of the tracks on a podcast episode, but you really have to check out Leo Nevilo's Beastie Boys Revisited project. As some of you may already know, the Beasties put up a load of a capellas a while ago for anyone and everyone to have a little play with. Leo's project is fantastic and approaches the Beastie sound from a fresh, electronic, angle. It is very beat driven, but really gritty and inventive. You can download the whole thing here… http://www.archive.org/details/BeastieBoysRevisited – You can check out more of Leo's work at his MySpace page.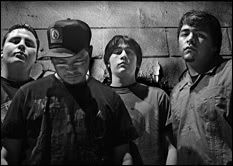 With each musical genre come sub-genres and then mutations between genres and sub-genres, almost to the point now where it is becoming hard to classify certain music as one thing or another – sure it is shitty if you work in a record store, but generally speaking I love it. There are casualties along the way, but such trials must be taken and errors must be made to unearth something a bit special. Sometimes it is the subtle approaches towards a genre that can surprise and pay-off the most. Recently it was one such approach that came as the most pleasant surprise. I'll cut to the chase: it was the new release by Lotus Tribe, the 'S.E.L.F.' project: The Art & War of Misanthropic Philanthropy. These guys are from San Antonio and decided it was time to shake up the hip-hop scene in Texas, and that they did. The rhymes are smooth, melodic and intelligent. The beats are strong, well produced and addictive. All the elements are on display to full effect, in a similar vein to Jedi Mind Tricks and Immortal Technique, only in a more laid back manner, these dudes really hit that fresh spot. Remember to check the Lotus Tribe MySpace page.
Lotus Tribe – El Fin
>> download track
>> buy S.E.L.F. – The Art & War Of Misanthropic Philanthropy @ CD Baby
This download link will expire on 15th September.
Continuing with the exploration of interesting hip-hop angles, the city of angels has been providing some heavy, heavy stuff for a while now. Two parts hip-hop and one part crazy, the L.A. sound has been gripping people from all corners. Last year we had the two Sound Of L.A. EPs from Plug Research and now ArtDontSleep presents the From L.A. With Love LP from Milan Records. This is hotter than the sun, so prepare yourself. The LP features an array of amazing L.A. based artists, including; Adventure Time, Exile, Georgia Anne Muldrow, Flying Lotus and The Gaslamp Killer. A blend of hip-hop, electronica, neo-soul and dub, this stuff is definitely for the beat loving head nodders. Full details are on the MySpace page, grab this while it's hot. Kutmah has also made a megamix of the tracks and that can be downloaded via Dublab.

Flying Lotus – Its A Secret
>> download track
>> buy From L.A. With Love via Milan Records
This download link will expire on 15th September.
Lastly I have something for you that I think should be described as a remixtape. Whilst Sweden's Mojib is trying to promote his upcoming debut album Whimsical Lifestyle on Canada's Non-Existant Recordings label, he is also giving away a remix project he did of UNKLE material. Frankly, it is fantastic. A very creative mix and mash-up of all UNKLE related tracks, Mojib has furthered the classics and actually made good the infamous misses. I didn't really have much in the way of expectations when I heard bout this, but as soon as I heard the first part of the four contained on the project, I knew it was pure dynamite. It is right up there with Skalpel's Virtual Cuts as far as addictive mixtapes go – and that is saying something! Luckily for you, the whole thing is available for download…

Mojib – VS UNKLE
>> part 1 – part 2 – part 3 – part 4
>> myspace @ http://myspace.com/mojibmusic
More info available @ www.mojib.net
Well, that's your lot for now. I hope to pick things up and get cracking with more regular blog updates – I know I have said that before… but now I'm saying it again. Have faith y'all and don't forget to subscribe to my mother-funking podcast, you know it makes sense!
Useful links: