LIVE: Sharon Jones and the Dap-Kings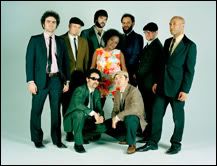 James Brown was known as the hardest working man in show business, the Godfather of Soul, and generally one funky mutha – so the events of Friday 7th March 2008 in Brisbane, Australia would then surely have made him an immensely proud man. I'm talking about Sharon Jones and the Dap-Kings playing live at The Tivoli in Brisbane.
I'm still pinching myself even now, well over a week after the amazing event.
Touring off the back of their latest release '100 Days, 100 Nights' on the label Daptone Records, Sharon Jones and the Dap-Kings had arrived in Australia to play several gigs, including appearances at some local festivals. I had been anticipating this for over six months and then as if by magic, the date was upon us.
Brisbane can be a fickle town for live music. There is an obvious bias towards rock and dance music and you never can tell how many people might actually leave the house for certain gigs on certain nights. When Breakestra came to Brisbane, there were probably around 300 people at the modestly sized club The Colombian. Late last year around the same number had turned out for Ohmega Watts at The Step Inn. But exactly who in Brisbane was really a Sharon Jones fan? Prior to the gig I knew around half a dozen people that were fans, so you'd understand my curiosity with regards to how many people would actually go. A friend had told me that one ticket outlet had sold over 100 tickets on their own and we came to the conclusion that if 500 people turned up, that would be a good result for Brisbane.
Doors were due to open at 7:30pm and as I was driving I really wanted to get a parking space, so I was there right on the dot! Found a spot easily and navigated myself to the back of the queue waiting to get into the old theatre. At this point there was about 50 people in the queue, all of varying ages and backgrounds – this seemed encouraging enough. Once inside I marvelled at the historical venue. As previously mentioned, The Tivoli is an old theatre, but now a venue for live music. I gazed around my surroundings and couldn't help but crack a wry smile. I knew this would be the perfect venue for such a gig: the raised stage, huge draping deep red curtains, large dance floor and a massive balcony.
I grabbed a shirt from the merch table and a drink from the bar. After mingling with a few familiar faces (Brisbane is a small town!) I realised that I still wasn't sure who the support act was. There were rumours of a Beat Junkie, but what we got was something altogether 'different'. The curtain raised and out walked a man wearing an Evil Kanevil style blue jump-suit and a flight helmet with something attached to the front of it near the mouth. It turned out to be a guy named Bob Log III and the item attached to the front of the helmet was a telephone handset!
Bob is an Arizona native and one funny bastard! The telephone handset is plugged into an amp and he uses it as a mic. He also has a steel guitar, a huge kick-drum, a hi-hat and an effects machine. Basically, Bob Log III is a one-man electro-blues thrash band! It was fucking loud. Once my brain had settled and learnt to accept what it was being exposed to, I started getting into it. The style of Bob's vocals reminded me slightly of Kings Of Leon (who I love). But the country overtones and crazy lyrics, coupled with Bob's charismatic persona, was an experience to behold.
Bob also relies heavily on audience interaction and, as I mentioned, he is one funny bastard. His songs all seemed to be about alcohol and women, but they were extremely tongue in cheek and the crowd absolutely loved him. He played for a good hour before finally taking a bow. In hindsight, despite how different Bob is to Sharon and the boys, I think such an up-tempo and raucous support act worked perfectly to hype the crowd for the main spectacle.
Around an hour later than advertised, the Dap-Kings made to the stage. I knew it would be something special from the outset. There is always the worry that hyping something in your mind so much before an event can make it a bit of a let down, but the next two hours of my life did nothing but exceed all expectations.
Binky Griptite announced the band and proceeded to play the part of master of ceremonies for the evening. The band started by playing some of their instrumental numbers, including 'Mellowmatic Mood'. Then finally they invited Sharon Jones out onto the stage. Wow, what a reception she got – and I should mention at this point, as I turned around the place was absolutely packed. Easily 800+ in The Tivoli. Brisbane had done me proud.
Sharon jumped straight into it. She is a fiery live wire if ever I've seen one. A true entertainer. She oozes talent and class – she was clearly born to do this. So much energy, she didn't stand still once all night. Like Bob, she loves to include her audience and immediately set about collaborating with us for her live rendition of 'Nobody's Baby', enticing us to fill in the 'ooo-ooh's'. The crowd lapped it up – she had us wrapped around her little finger.
[youtube:http://www.youtube.com/watch?v=z6Tv0NQ0e5Q]
Sharon Jones and the Dap-Kings – Nobody's Baby
>> download track / YSI
>> buy @ Daptone Records
This download link will expire on 25th March.
I was only about 30 feet from Sharon Jones and the Dap-Kings, but they were so on key and so perfect, that I had to keep rubbing my eyes to make sure I wasn't actually watching some sort of 3D movie. The Dap-Kings are immense. They had two sax players, a trumpet player, a drummer, a guy on the congas and three different guitarists. Not forgetting Sharon, what a voice – ridiculously strong. The live show sounded easily as tight as the studio recordings, it all just seemed to come so naturally.
They played a large selection of their back-catalogue, but Sharon added stages to the performance too. At one point she decided to tell the story of her ancestors. Stating that one side comes from West Africa, this culminated in her doing an African peace dance. Then the other set of ancestors were Native American and she did a Native American peace dance. The crowd went absolutely spastic. There is no way just anyone in their fifties can do what Sharon does, she is incredible.
The show also included two separate occasions where people were invited up on to the stage. Sharon invited a few guys on stage for a dance and then at the pivotal points in the accompanying song she nudged them towards the edge of the stage with a snappy "bye-bye!" Then it was the turn of the girls and around six were invited up. Each had a little go at doing their dance piece – it was very entertaining!
Around two hours after the start, the band wrapped things up, they thanked Brisbane for coming out and they all left the stage. The applause that came straight after was the loudest I've heard in a long time and seemed to last forever. After what was actually about two minutes, Binky Griptite came out and declared that they were informed this was meant to be an early show and they thought they just had to come out, play a few songs then go home and go to bed. He asked "oh you want more?!". Yes, Brisbane did want more. So the band assembled once more and Binky invited Sharon to come back out.
What followed was a near on hour-long encore that focused around James Brown covers. I started this article by stating that the late great James Brown would be extremely proud of what occurred on the night of Friday 7th March 2008, and this was why. Now Sharon Jones is originally from the same town as James Brown (Augusta, Georgia), but I don't think any of this can be attributed to there being something in the water in those parts, this is something different, something very special indeed. Sharon sang 'It's a Man's World' and I think the collective number of goose pimples in the audience probably reached well into the millions.
The show finally concluded and a sea of people was left in complete awe of what they had just witnessed. I'll state it once more: I'm still pinching myself.
I bumped into a few mates after and they looked like Santa had brought them all of their wildest dreams, but with some added interest. Then out the corner of my eye I spotted Binky Griptite walking my way. I seized the opportunity, and whilst trying not to sound like a crazed teenage girl at a Backstreet Boys concert, I shook his hand and told him exactly what I thought of his band and what I had just seen. Binky is truly a gentleman, and a humble one at that. We spoke for a few minutes bout music, vinyl and the future – oh, of which he divulged that there will be more Binky Griptite podcasts, so look out for those. I told him that what I had just witnessed eclipsed the amazing Breakestra gig I had attended in November 2006. I could tell that these words were accepted as a big of a compliment as they were intended. Others were waiting to speak with him, so we shook hands again and I wished him a pleasant remainder of his stay in Australia.
What more can I say?! I suppose like I said in my Breakestra article after seeing their live show, I'd just advise each and every one of you to ensure that if you ever get the opportunity, you have to see Sharon Jones and the Dap-Kings live. They blow their contemporaries out of the water. Even people that don't listen to soul or funk have been hypnotised by the Daptone effect. Get involved!
Up-coming tour dates:
UK & Ireland

Thursday April 10th – Button Factory – Dublin, Ireland
–
Friday April 11th – Mint Lounge – Manchester, England
–
Saturday April 12th – Concorde 2 – Brighton, England
–
Sunday April 13th – The Yardbird – Birmingham, England
–
Wednesday April 16th, 7pm
Thursday April 17th, 7pm
Friday April 18th, 7pm – Jazz Cafe – London, UK
–
Saturday April 19 – The Sage Gateshead – Gateshead, England
US

Friday April 25th – Coachella Music Festival
–
Saturday May 31st – Mountain Jam Festival
–
Friday June 6th – Toyota Park – Bridgeview, IL
–
Saturday June 14th – Bonnaroo Festival
–
Sunday July 20th – KCRW's World Festival @ Hollywood Bowl
Useful links: