My Life At 33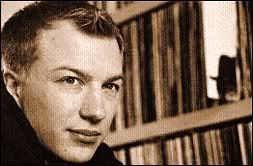 This year has seen some epic English releases, I'm talking; Bonobo, Loka, The Broken Keys (Nostalgia 77 and Natural Self), TM Juke and also… Dr Rubberfunk, with his new album My Life At 33. The Doctor (or Simon Ward as family and close friends probably know him) ignited the embers within our woofers in 2003 with his debut electro/funk/chill crossover album The First Cut. This album proved to be a priceless twelve track excursion into the wonderful realms of raw funk and carefully spliced samples, and as such, anticipation for a follow up was accordingly high. Alas wait no more, My Life At 33 recently dropped on his own label; Funkydown Productions. So "Wassit all abaht?", I hear you politely enquire.  Allow me to explain…
My Life At 33 is eleven tracks long… or twelve tracks long, depending on which websites you check. I did however check this out with Simon and he confirmed; "…on the inlay it only shows 11 tracks, but a lot of online sites (Amazon etc) have been listing 'Heavy Street' despite the fact that the only way of knowing it's on the CD is when it starts 3 minutes after 'Father's Lament' finishes…" - so basically it is really twelve tracks long, and lucky for all concerned they are twelve fantastic tracks!
The album kicks off with Livewired, which pays true homage to old skool guitar funk, but with a very modern arrangement. The beats are tight, as can be expected from Dr Rubberfunk, and the melody is immediately captivating with its upbeat flow and steady progression. About half way in there is a breakdown that you could describe as being slightly country oriented, but that is really just with the guitar, the layers of the track are generally very consistent and exquisitely constructed – great way to kick off the album. Up next is Taking Over. This track is immensely infectious – right from the hand claps, to the keyboard melodies, and then onto the soulful vocals of Bridgette Amofah. It is worth noting the more subtle components to this track also; like the brass stabs and prolonged strings – I always find it is these subtle elements that complete a composition.
Theme For A Latter Day Lothario is an absolute monster of a track – I get goosebumps every time I hear it. The piano sample is chilling, the beats kicking, and Rogiers's voice is pure silk. It is hard to pigeon hole a song like this, it has obvious funk elements, but also treads on soul and r&b – however I try not to dwell on genre-debate for too long, it can be a rather pointless exercise. This track almost says to me "see, this is what your average r&b track 'could' sound like if it had decent beats and sharp arrangement" – like I said, an absolute monster of a track. Track four is Baby Bossa, a point in the album at which I wondered how I was just four tracks in and already in total heaven. I pinched myself, but it turns out I wasn't dreaming. Keeping with the tight beats and acoustic samples, Baby Bossa has more of a latin angle to it – guess the clue is in the name! This is 5m21s of pure instrumental bliss, genuinely inspirational stuff – there's never time to become tired either, as Dr Rubberfunk breaks down with supreme execution, before exploding into a different melodic stanza – a culmination of exciting sounds sparring playfully with your eardrums.
Then we have Watch The Tables Turn, a funk creation with attitude. Sara J provides the emceeing and vocals to this dance floor thriller – I'd love to see this one performed live! Funk guitar and seriously heavy beats dance around the catchy vocals, all to deliver a really upbeat result. Rooster sounds like it could have been Breakestra and Choklate, but no, it is Dr Rubberfunk and Helena Wood, with Mr Guder. "I saw the gold and green in the morning, I heard that rooster calling in the morning!" – the vocals are pretty damn addictive! I defy you to keep still whilst listening to this track, I'm sure it's impossible – a fantastic blend of organ and sax accompany the beats and funk guitar – brilliant.
All Day Playing commences the second half of the album. It's a calmer track than what has been heard thus far, more downtempo, yet charmingly soulful. Beats, guitar, and a bit of the old reed instrumentation, sooth your ears whilst maintaining the consistent rhythmic stylings of the album. It is this blend of funk, bossa, soul, and just raw heavy beats that genuinely excites and entices me – the only other artist I can think of that has tried such a blend, with such great results, recently is Cut Chemist, with some of the tracks off his album The Audience's Listening. Following is Riding With The Ratman, a track I'm playing a lot at the moment. The first two minutes are purely instrumental, with some of the funkiest sounds I've heard for a while, then enter a few different vocal samples – they are so simple, yet fit so well, very catchy! "Every night there's rats all running in and out the basement and coming out the yard stuff" – "They say rats don't have any bones, what am I looking at?" – ah you really need to hear for yourself…

Dr Rubberfunk – Riding With The Ratman
>> download track
>> buy album @ Amazon US
/ Amazon UK

This download link will expire on 17th December.
Track nine is Blow Away The Grey, a soulful funk track featuring Fiona Rowden on the sing-song lark. This is very upbeat and the main chorus is as jolly as it is catchy. A definite foot-tapper and anthem to anyones summer chillaxing session. Up next is Minus Three And Falling, the calmest track since All Day Playing. With this track, Dr Rubberfunk has stretched his funky sound more into the territory of lounge jazz, but kept the quintessential funk ties via the break and guitar samples – or another way to look at it is that it's a downtempo funk track with a heavy emphasis on the sax, feel free to take your pick on the stances – either way, we have here a very soulful track.
Father's Lament is officially the last track on the album – but we've already discussed this! – I half expected Ray Charles to start singing on this track. It's a downtempo funk/blues creation with a steady beat and disciplined arrangement. Often it isn't what you do, but how you do it, and it feels as if it could have been quite easy for Dr Rubberfunk to have gone a bit wild with this track, but gladly he has stuck to the roots of the sound and style, and the execution is sublime. Quite a beautiful composition really. Hidden track anyone? Ok, so now we have Heavy Street, a track that seems to have borrowed an organ from an old bingo hall. I recognise the tune, but I'm crap with names, so fill in the gap yourself. I can literally invisage a band playing this up on the stage of a dusty old hall – like a big band playing a small sound, that is until we reach half way in and a few latin sounds creep into the equation. It's good to see such a different take on a traditional style and Heavy Street is pretty hypnotic, if nothing else. iTunes users also get Sunset Breakdown with their e-purchase of this album, and it's a great track too.
So, that's the album then! Surely you went and ordered it after about the second paragraph, right? Of course you did. I've gone into some detail on the individual tracks that give a good idea of what this album is about, but really I feel that Dr Rubberfunk has created a masterpiece with My Life At 33 purely for the manner of the execution, and the meticulous arrangement and layer building he has done. There's no denying that on a base level the songs are just great, easy to listen to, and generally pretty upbeat – but as I mentioned earlier, it is the subtleties that I believe complete the best compositions, and My Life At 33 is full of them. A half hearted effort at creating this album would have had mediocre results at best, but all efforts have clearly paid off here, and what we are left with is easily one of the albums of 2006.
Useful links: