ObliqSound on the remix
The indie label ObliqSound, who are based both in New York and Hamburg, have just dropped a remix album called The ObliqSound Remixes Vol. 2. For this release they teamed up with famed industrial designer Karim Rasheed – Karim was enlisted to create a case and carrier for the CD to match the spirit of the label, and as you will see from the pic below it looks pretty damn cool. The label's eclectic blend of artists have been remixed by such names as; Osunlade, Mark de Clive Lowe, Matthew Herbert, Nuspirit Helsinki, Truby Trio, Atjazz and many more. The album contains 12 tracks and actually comes with a bonus disc containing the original tracks that have been remixed.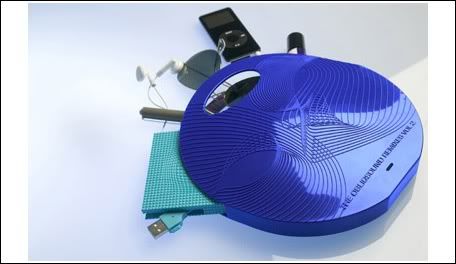 I will be receiving a copy of the cd for review shortly, although sadly mine wont be the ultra cool Karim Rasheed designed version, but for now I'll leave you with a taste from the album in the form of a Osunlade remix of Tony Devivo's Percussion Suite…
Tony Devivo – Percussion Suite (Osunlade Yoruba Peoples Remix)
>> download >> buy album @ Amazon UK

This download is a sample of the music only and must be deleted from your computer within 24 hours of downloading. This download link will expire on 24th October.
Look out for my review soon!
Useful links:
Download – Tony Devivo – Percussion Suite (Osunlande Yoruba Peoples Remix)
Buy The ObliqSound Remixes Vol. 2 @ Amazon UK