Parklife 06 – Brisbane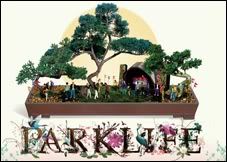 This past Saturday I went to the one day Parklife music festival in Brisbane. Essentially it was a dance festival, but they had some pretty diverse offerings, from hip-hop to breaks to dub to rock, a good selection indeed. I'd been looking forward to this for a long time, mainly for three main acts – these were; Cut Chemist, Coldcut, and Mixmaster Mike. It wasn't actually until I got to the festival that I realised not everyone was looking forward to the same stuff as me. Let me be frank for a moment… I've never seen so many metrosexual breaks fan posers in one place. Horses for courses and all that, I've got nothing against these fellas, but wearing luminous sweat bands (usually bright pink) round their heads and ski goggles, all whilst flexing their ever-so-ripped muscles wasn't quite what I imagined the average Cut Chemist or Mixmaster Mike fan to look like… but there was a reason for that.
At times we're all a bit guilty of being a tad naive, but it would seem although the majority of Australia worships rock music, there's also a very big crowd of housey breaks fans, and they dress funny. I'll get to the point; whilst I was creaming myself at the prospect of seeing the three previously mentioned acts, it seems a lot of people were actually there for Stanton Warriors and some other people I'm not familiar with. Don't get me wrong, the crowds for Cut Chemist, MMM, and Coldcut were freakin' huge, but I just wasn't aware that even more had other priorities, as can be witnessed by reading other reviews of this event. I read one brief report where Cut Chemist and Coldcut weren't even mentioned! Still, deep breaths, horses for courses.
Being the pedantic geek I can often be, I had planned in advance and made a rough (by rough I mean definite) plan of who I wanted to see at Parklife and how long I could see them for. I even printed it… then promptly forgot it. Anyway, it was wishful bloody thinking, best laid plans and all that. When we first got in I had used my previous MySpace scouting to figure that Shredlock was our best bet for first act to catch, well that went out the window, it was breaks type stuff from memory and we soon figured that this DJ called Cutloose was much better. He was really into it! Playing mainly hip-hop, but then also found time for some rockier stuff like RATM. Straight after Cutloose was the Aussie hip-hop group The Winnie Coopers and they put on a really good show. I didn't think too much of their album, and apparently neither do they. It was widely regarded that they are much better live than in the studio. They commanded the crowd well and the use of a drummer and bass player really helped create the atmosphere for their hip-hop set.
Oh, somehow in all the chaos we actually caught a couple of tracks by My Ninja Lover, between Cutloose and The Winnie Coopers. My Ninja Lover was like live dnb/breaks and they seemed to do a pretty good job of getting the crowd going – alas time was of the essence. Surprise of the day came in the form of Mattafix. Before we entered the festival we actually saw Marlon of Mattafix near a kebab shop. My comment of "isn't that the bloke from Mattafix?" was followed by my Brother's ingenious shout of "Big City Life!". What did my Brother think would happen? Was Marlon meant to come running back to ask if we could all be best friends? Funnily enough that didn't happen. The reason for the surprise of the day then; I'm sure you all got bored as quickly as I did with that overplayed track Big City Life, but man these fellas put on a good live show. Had a full band, plus Marlon is a demon on the steel drums! Might even be worth revisiting their latest album.
The moment I had been waiting a couple of months for, Cut fucking Chemist. Don't ask me how, but we got right to the front, I swear I was the closest person in the crowd to Cut Chemist. I had also been speculating for a while if he would bring anyone with him, I concluded that it couldn't be anyone too big or it would have got leaked, so I suggested maybe Hymnal… I was bang on the money. Hymnal is the fella that features on the track Altitude, he actually personally left a message on this very blog a couple of months back. When we saw Hymnal we started shouting his name at him – honestly it was like he'd just won the lottery, he looked so pleased that we knew who he was. He seemed like a thoroughly decent bloke though, so happy and up for fun. He played the crowd so well, and Cut Chemist? Well Mr. McFadden made my year. He played stuff from the new album, stuff of old, and also did some amazing tricks on the turntables, including a finale that involved live sampling of members of the audience, that he then went back to cut up with. If you ever get a chance to see Cut Chemist live, you have to go see him, the dude is a perfectionist and put on the best show of the day.
Jem – They (Cut Chemist Vocal Mix)
>> download <<
This download is a sample of the music only and must be deleted from your computer within 24 hours of downloading. This download link will expire on 16th October.
Salmonella Dub were on after Cut Chemist and they started off by playing the Mario tune, which was pretty cool. Then one guy took to the mic with a sea-shell and did a solo on that for a while. They had some good brass guys too, but I wasn't really that into it and went to discover what else was going on. We chose this time to rest up and grab some food, which for your information was good stuff and well priced. Whilst we sat on the grass the sounds of Stanton Warriors and Dirty South could be heard coming from different directions. There were actually three separate stages at Parklife, as well as a few bars, two smoking areas, two first aid areas, some merchandise stands, a cloak room, and about 50 toilets. The area was laid out pretty well considering it was totally makeshift, but it was a right hassle getting through the Stanton Warriors' crowd to reach other sections!
We then caught a couple of songs by Freeform Five which sounded pretty cool, live dnb and breaks with a female vocalist. But I was under immense pressure to go elsewhere. I was duped into seeing Butterfingers under the guise that we'd get a good position for Mixmaster Mike (who was due on the same stage straight afterwards). I think I like two Butterfingers songs, the rest is crap. It's just like frat-boy jock rock. A lot of the crowd were beered up meat heads pogoing along to tracks about fucking your mates mum and getting drunk. Must remember… horses for courses. But, indeed the pay-off was a good position for Mixmaster Mike. The crowd was really rammed by this point. So out he comes and starts doing his thing, but hang on a second… what's going on? Oh some rude bastards are trying to push their way to the front, oh and some more… and more and more. I swear some of these fuckers had no grasp on physics. Listen up pricks… if I am jammed between four other people and there is no where else to go, why are you still pushing me?! Sadly, this hampered my experience of MMM quite a bit. But he was average anyway, and I hate to say this. I've been to the DMC's plenty of times, I know the tricks. All he did was drop everyone's favourite party breaks for an hour, but then in honesty… what more was he supposed to do? He's a DJ. I just felt Cut Chemist and Hymnal put on a much better all-round show. Plus there was Coldcut…
Coldcut were the last act of the day, that is unless you decided it would be a better idea to see Krafty Kuts on one of the other stages. Anyway, we each had brains in our heads, so we chose Coldcut, obviously. God knows how, but we actually managed to get right to the front for this one as well, what a result! Jonathan and Matt were up there, along with their two VJs and also Juice Aleem from UK hip-hop crew New Flesh. Coldcut played stuff from their latest album as well as some of their classics… "the lunatics are taking over the asylum!" …the visuals were spectacular and the crowd went spastic when a puppet of John Howard (Australian Prime Minister) came up on the screen. Seriously amazing show they put on, sounds cheesy but I felt totally privileged to be there experiencing it. They were also the only act to come back on after they'd finished for an encore – what a show.
Coldcut – More Beats & Pieces
>> download <<
This download is a sample of the music only and must be deleted from your computer within 24 hours of downloading. This download link will expire on 16th October.
It was a long old day, but worth every penny. Not only did I get to see all the acts I wanted to see, I got to the front of them all. I was surprised by Mattafix, underwhelmed by Mixmaster Mike, but absolutely amazed by Cut Chemist and Coldcut, the two best acts at the festival by miles and miles. With my word as my bond, let me tell you to never let an opportunity to see Cut Chemist or Coldcut live pass you by. Oh and for the first time ever, someone actually commented on my MF DOOM t-shirt, was starting to think I was the only fan in Australia! Be great to hear from you if you went along, and also if you spotted loads of those FIZIKZ stickers all over the place, that might just have had something to do with me too!
Useful links:
Download – Jem – They (Cut Chemist Vocal Mix)
Download – Coldcut – More Beats & Pieces