Plastique Petit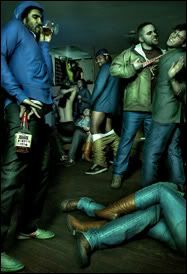 Do you ever wonder what might happen if there was a musical amalgamation of Spank Rock and 2 Live Crew? Well do yourself a favour and stop wondering… Plastic Little have landed. This Philadelphian five piece have actually been around since the Summer of 2001, a period of time sadly remembered for less musical reasons, however, PackOfRats, Squid, No Body's Child, Jon Thousand and DJ Si Young are about to hit your radar big style.
The Spank Rock and 2 Live Crew analogy was to give you a partial idea of their sound, but don't be mistaken, these are no copy-cats, they're fresh and unique. The first thing I noticed about Plastic Little was their jump-up style of hip-hop, it's energetic for sure, but once your ear begins to fully tune in, you'll notice that these hip-hop layers run deep. You wont be able to hide from the sick flows and lyrical content – it's crude for sure, but tongue in cheek and delivered in that unmistakable "we just don't give a fuck" kinda way. Before this you had Spank Rock, before that The Beastie Boys, 2 Live Crew, but before that there was Clarence Reid (aka Blowfly), so it isn't necessarily the shock-factor of such upfront and blue lyrics that make Plastic Little stand out, but more their approach and technique.
The first full Plastic Little LP is due out sometime soon and it's called She's Mature. Coming up first though is the release of an EP featuring the tracks Crambodia (feat. Ghostface Killah), The Jump Off, Foil, and a Pink Skull remix of Crambodia. You may have spotted the name of a little known emcee in that last sentence, yup, Ghostface Killah. Serious names take note of serious business and Ghostface doesn't like to waste his time! The dudes also feature some production by Diplo and some rap rap rapping by Spank Rock himself on the album, so no doubt it's gonna be a banger. The last track on the aforementioned 12″ EP was a Pink Skull remix of Crambodia and you can give it a little listen here…

Plastic Little – Crambodia (Pink Skull Remix)
>> download track
>> buy album @ ShesMature.com
This download link will expire on 10th May.
Also, if like me you are totally addicted to collecting 7″ vinyl, then there is the single of Crambodia available too, it features a Hot Chip remix on the B-side. Want some more media? Okey doke, check out this video for the track The Jump Off…
You can listen to some more tracks on the Plastic Little MySpace page, I'm particularly feeling the sort-of-cover of Close To Me by The Cure, aptly named Get Close. So really, all that remains is for you to add these dudes to your MySpace friends list, then buy their album, oh and tell all your friends about them so they can do the same… obviously!
Useful Links:
Download – Plastic Little – Crambodia (Pink Skull Remix)