Play With The Changes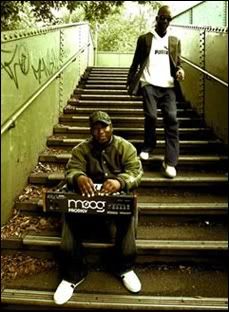 Do you know 4hero by name? I'd bet you at least know them by sound. 4hero have been around since the early 90s and are seen by many as UK pioneers of the jungle and drum 'n' bass scene, fast forward to 1998 and the group obtained a nomination for the Mercury Music Prize for their album Two Pages. Jump forward again to 2001 and 4hero dropped the album Creating Patterns, it was this album that included what has now become a bit of a renowned calling-card for the group, the track Les Fleur.
4hero have always managed to create fresh and innovative music, incorporating a plethora of sounds from varying genres. Often delving into their jungle roots, whilst exploring lighter, more soulful jazzy sounds. But it isn't their mere efforts that have earned them acclaim in the past, but their results. Many have tried to 'mash' genres and sounds, yet ended up with an aural nightmare, but 4hero always come up smelling of Les Fleur… or roses.
And so fast forward for me one more time, if you will, right up to February 2007, teetering on the edge of the brand new album release; Play With The Changes. In the past, 4hero have hit us with d'n'b sounds, electronica, jazz, cinematic pieces, the list goes on, and this time they are back and back with a bang. Added to the roster of sounds for Play With The Changes are soul and blues. That's not to say it is a first for the guys, but more just to explain the extra emphasis of this new record. The album is 14 tracks long and due for release through their own Raw Canvas label on Monday (5th of Feb). Not that you need any more excuses to go out and buy it on monday, you should still read on and see just what I thought of Play With The Changes.
The first track is Morning Child feat. Carina Anderson. Within the first 2 seconds you know it is 4hero; dramatic strings and raw beats. Then Carina's vocal comes in, frankly it's angelic. The track gives me goose-bumps, don't paint me soft, but I think it is beautiful. The breakdown strips the track to bass, piano, steady beats and Carina… "open your eyes to the morning wont you?" …then *bam* a big beat and back into those dramatic strings, partnered with strong brass – I just love the structure to this track. Take My Time features the ever-talented Jack Davey. A sort of neo-soul excursion, dripped in smooth, yet clean execution. In a sense it sounds to me as if what a Ty track would sound like if he was a lot more laid back soul than raw hip-hop – it's a classy joint indeed.
The third track is Look Inside feat. FACE and it kicks it to us straight away with some jazzy d'n'b stylings. The strings are there, as is the fat bassline and kicking beats. FACE adds a beautiful component to an already groove-ridden track, it feels very complete. The beat, although comparable (or recognisable) to d'n'b is perhaps actually a lot closer to more uptempo lounge sounds, and it works a treat. Sink Or Swim feat. Lady Alma is up next, and it's got real dirty bass and a 2-step kind of beat going on. Lady Alma is yet another silk-laden songstress to grace this album, she is as smooth as she is soulful. Take a listen for yourself…

4hero – Sink Or Swim feat. Lady Alma
>> download track
>> buy album @ Amazon US
/ Amazon UK

This download link will expire on 9th February.
Give In features the talents of Darien Brokington and Phonte. By this point one thing that really stands out about the album is simply the quality of production. The beats are solid, all the layers are in all the right places, and most importantly the tracks sound like complete compositions. Darien and Phonte mark the first extra male presence on the album, and man it's all good. This track appears to be quite simple with its soulful melody and vocals, but if you listen carefully it is actually very intricate. Phonte's rap is nicely placed and works well also. The title track is number six of 14, Play With The Changes. Larry Mizell and Tilita Long lend themselves to this subtle and funky creation. A beat balancing on the boundary between latin and jazz, with a song structure paying homage to sounds of old, whilst offering invigoration – but all the while the evidence points to something extremely soulful and melodic, one to nod your head to, upbeat and positively brimming with solace.
The halfway point in the album sees Something In The Way feat. Bembe Segue & Kaidi Tatham. This is a very upbeat track, once again incorporating that 2-step style beat pattern, but this time with a jazz-funk melody. I can see this appealing to both fans of lounge and also soulful jazz, I mean often those are the same thing, but often they can be totally different too. It just feels more like a 'proper' fusion of the two sounds have been used to create something that only 4hero could even dream to achieve. Once more it is all about the execution. FACE returns for Stoke Up The Fire, a real head nodder. The energy to this track is good, it feels hectic without becoming overwhelming. The balance has been found and exploited, I just couldn't sit still. The use of electric guitar as a melody laced on top of catchy beats and a heavy bassline works very well with the soulful vocals.
Sophia is track nine and it brings us back into the realms of the cinematic arena. The beats are impressive, sound so raw and fresh, the strings add atmosphere for sure, and the keys pull it all together. Another beautiful piece. But sneakily there are elements of jazz funk in there, I'm not entirely sure why I think it is sneaky, but it just feels like it has been subtley placed at the breakdown – I'm talking in minor Shaft (yes John Shaft!) proportions – don't get me wrong though, it works fantastically! A brilliant instrumental track. Then we have Superwoman, the longest track on the album at 7m50s. Sounds like it could have been a rare 80s Motown b-side that never really saw the light of day. It's definitely yet another good example of the production prowess on the part of 4hero.
You may remember The Awakening from Volume 6 of the Just Like Music Podcast – if not, what are you playing at? Get subscribed! This track features the lyrical talents of Ursula Rucker, as she gracefully dances around the funky beat, brass stabs, mean bassline, and strings. You can view the new video to this track below…
Why Don't You Talk is track number twelve. A funky jazz style instrumental piece that features more instruments than you could shake a stick at. It lies somewhere between Quantic Soul Orchestra and Georgia Anne Muldrow (minus the vocals), a big compliment in my books. The inclusion of these few instrumental tracks, I believe, has really helped to make the album a complete listening experience. Then Bed Of Roses has a blatant low-key d'n'b thing going on. Jody Watley adds some deeper soulful vocals to the proceedings – her sound is like a spliced recreation involving Jill Scott and Alice Russell. The bringing together of cinematic strings, subtle d'n'b beats, keys, and soul singing is a beautiful amalgamation of artistic intent and, ultimately, creation.
The final track is Dedication To The Horse, a shorter track, deliberately suited as an outro. This is instrumental and focuses on electric guitar (think Hendrix style) and hectic live sounding beats. A definite head-nodding, finger tapping, closing ceremony to what has been a fantastic listening experience. Marc Mac and Dego have really outdone themselves with Play With The Changes. Anyone that has read a few of my past reviews will know that I personally worship the idea of a track becoming more than a track; a complete composition. As I mentioned a few times in this review, the production on this album is exquisite. To attempt something is one thing, but to achieve something is another matter entirely – I believe they've achieved a lot with this album. I sincerely hope Play With The Changes does 4hero proud, they certainly deserve to do well with it.
Useful links: