Spare Time Machine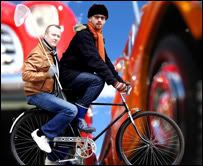 With over half of 2007 already been and gone, now is the time that we start to get an idea of what the top albums of the year have been. Spare Time Machine, the new album by Pepe Deluxé, dropped just last week and it is definitely one of my fav albums of the year by far. I wanted to make that perfectly clear within the first paragraph of my review – we can all get a bit lazy when it comes to reading reviews, so if there is one thing I'd like people to skim-read here… it's that Spare Time Machine is one fantastic album.
If you haven't a clue who I'm talking about, then shame on you, but don't worry, you are forgiven. Pepe Deluxé are a Finnish duo signed to the British label Catskills. The fellas have been messing with electronic downtempo sounds since the mid nineties, but with this new album they have taken a new direction. The new album sees a venture into the more psychedelic pop and rock sounds, and it works oh so well.
The Mischief Of Cloud 6 is the opening track and I actually purchased the 7″ vinyl of this one the other day. This is an upbeat track comprising of a highly addictive melody and very retro vocals. The blend of electronic instruments and more organic instruments gives a good result. One thing I really like about this track is the drums – nothing beats raw sounding drums, and these certainly have attitude to boot. Overall it just sounds extremely well produced, the culmination of the psychedelic slant on the proceedings along with some great guitar riffs helps to give that well rounded sound – essentially it is retro-pop, but there really is nothing bad at all to say about it. Check out the video…
Next up is Ms. Wilhelmina And Her Hat, and already at this early stage in the album it becomes pretty obvious that the theme to the album, as mentioned earlier, is that whole slant on psych-pop/rock. Not usually a genre I'd find myself immersed in ordinarily, but hey, if it's good music… it's good music! This track goes from eastern chant like vocals into a really heavy bassline, this will be the one to get your foot tapping. For the group Spare Time Machine was also their first time experimenting with original lyrics and they are definitely in keeping with the musical style, give it a listen…
Pepe Deluxé – Ms. Wilhemina And Her Hat
>> download track
>> buy Spare Time Machine @ Catskills eShop
This download link will expire on 7th July.
Track three of ten is Go For Blue, one of the more 'poppy' tracks on the album, but it still maintains the level of depth held by its predecessors. I guess one theory would be that any genre or style can sound good if it is produced the right way, but not that many artists are actually brave enough (if brave is even the right term) to do it. Pepe Deluxé have shown their diversity and talent with this album – it all sounds so natural and complete. Heavy guitar and strong vocals marry with the melody to create another catchy tune.
I love the intro to Last Of The Great Explorers, slightly drawn out in an almost DJ Shadow style, then in comes the heavy guitar and gruff vocal – sublime. Albeit dipped in a certain level of retro, this sounds extremely fresh, perhaps this is just a good time to be reminded of certain sounds. I'm certain this will appeal to fans of all corners of rock, pop and dance music.
Pussy Cat Rock is the shortest full length track on the album and is straight up 60s high energy rock. It will get you dancing for sure, even as a sort of bridging track it contains enough to warrant repeat listens and interest. Seemingly a lot of effort was put into every facet of Spare Time Machine, nothing sounds rushed or incomplete.
The melodically sweet Apple Thief comes up next, a pairing of male and female vocals backed with guitars a plenty. Very downtempo and very uplifting. Fantastic use of rainfall bridges to the middle part of the song, a country sounding guitar ditty, it's actually pretty beautiful. God knows what made the guys make music in this style, but I am so glad they did. Just like Joanna Newsom's Ys caught everyone off-guard last year, this album has done the same but for 2007. The back end of Apple Thief gains a bit more energy, the chorus is addictive as hell and the drums are fantastic – great song.
Lucky The Blind is currently my fav song on the album, I say 'currently' because I am sure it will keep changing as the weeks pass, but that's a great dilemma to have! This track is essentially split into two parts; Lucky The Blind and Vacuum Cleaning Monster. The first part is a catchy ditty that will keep you moving like you've got ants in your pants – brilliant instrumentation matched with shadowed male and female vocals, it'll put a smile on your face. Then midway through, the track breaks down into ethereal electronic keys, then moody western'esque guitar and vocals, before the big crescendo – finally it pushes into the second half of the track, which sounds totally different but somehow fits like a glove. The drum break nearly pushed me over the edge. The chorus is cool too: "there's another sideburn sucking blackhole… a vacuuming cleaning monster".
The longest track on the album is Captain Carter's Fathoms. You'd be forgiven for thinking the beginning sounded like one of the newer Prodigy tracks, it's pretty full on. But very quickly that descends and a spine tingling guitar, pipe, and drum session builds into a steady but unstoppable machine. This is a tense and liberating piece of music, could be from a film score. It is very orchestral in a certain sense and definitely carries an air of theatre about it.
Forgotten Knights Prelude is a short prelude and pretty self explanatory. Sounds like it came straight from A Clockwork Orange! Right right brother! However, Forgotten Knights itself actually sounds more like a grittier version of a sort of crossover between Lenny Kravitz and Maroon 5. Hmmm, not entirely sure that sold the track very well. Anyway, trust that this is the least psychedelic track on the album, but it is still very good. A nice outro track indeed.
There are a few things to note about Spare Time Machine; I do genuinely believe it is accessible to just about anyone, but at the same time I don't think everyone could just put it on and immediately appreciate it. It is a bit of a grower. Took me a few listens to truly start to digest it. This was the same with Joanna Newsom's Ys, as mentioned previously, and that went on to be the best album of 2006. Definitely purchase this album and definitely give it the time it deserves. It is also one of those albums that is best listened to from start to finish, a bit like the new Beastie Boys album The Mix Up. Be sure to check out Pepe Deluxé and Catskills on MySpace, add them to your friends etc… We're all friends after all!
Useful links: