The Best of 2007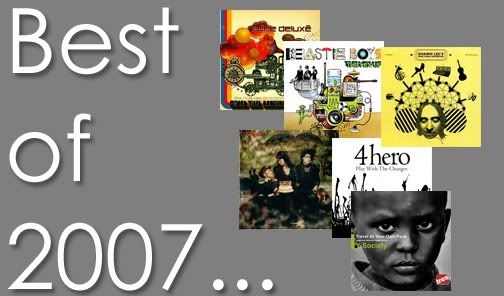 I heard a few people say that 2007 was a bad year for music, specially compared to 2006, but I have a list of 84 titles that beg to differ. I'm gonna detail 30 of my top picks, then I'll just list the rest in no particularly special order. There isn't enough hours in the day! In an ideal world I'd have mentioned all of the below albums at some point over the last year, but 84 albums is nearly one album every four days – even if by some miracle I did give a semi in-depth review of each one, I doubt you'd have enough time to read them all. I do often substitute my lack of prose with a slot on my podcast for new stuff that I dig, so try to catch that if you can.
Anyway, here's my definitive Top 30 albums…
Pepe Deluxé – Spare Time Machine [mp3][ysi]
Beastie Boys – The Mix Up [mp3][ysi]
CocoRosie – The Adventures of Ghosthorse and Stillborn [mp3][ysi]
4hero – Play With The Changes [mp3][ysi]
Shawn Lee's Ping Pong Orchestra – Voices And Choices [mp3][ysi]
Y Society – Travel At Your Own Pace
Nostalgia 77 Octet – Weapons Of Jazz Destruction
Antibalas – Security
Me&You – Floating Heavy [mp3][ysi]
The Sweet Vandals – The Sweet Vandals
Sharon Jones and The Dap-Kings – 100 Days, 100 Nights
Ohmega Watts – Watts Happening
The Quantic Soul Orchestra – Tropidelico
Speeka – Bonfire
The Cinematic Orchestra – Ma Fleur
The Heliocentrics – Out There
The Bamboos – Rawville
Little Dragon – Little Dragon
Nostalgia 77 – Everything Under The Sun
Jay Bharadia – The Yeti Cave [mp3][ysi]
Sia – Lady Croissant
Jazz Addixx – Oxygen Refreshed
Bullion – Pet Sounds: In The Key Of Dee
Cookin' On 3 Burners – Baked, Broiled & Fried
Kid Acne – Romance Ain't Dead
Amon Tobin – Foley Room
Jumbonics – Talk To The Animals
Flevans – Unfabulous [mp3][ysi]
Thes One – Lifestyle Marketing
The Dynamics – Version Excursions
And the fantastic rest (in alphabetical order)…
2Tall – Beautiful Mindz (feat. Dudley Perkins & Georgia Anne Muldrow)
Battles – Mirrored
Blockhead – Uncle Tony's Coloring Book
Bonde Do Role – With Lasers
Bumps – Bumps
CunninLynguists – Dirty Acres
Diesler – The Rhythm Station
Dinner At The Thompson's – Lifetime On Planet Earth
Distance – My Demons
DJ Day – The Day Before
DJ Kentaro – Enter
Dntel – Dumb Luck
Dyno – Dyno is Sol Waters [mp3][ysi]
Elizabeth Shepherd – Besides
Feist – The Reminder
Fink – Distance and Time
Flow Dynamics – Flow Dynamics
Grieves – Irreversible [mp3][ysi]
Hot 8 Brass Band – Rock With The Hot 8
Husky Rescue – Ghost Is Not Real
Intellectually Sound – Beats and a Poem Vol.1
J Dilla – Ruff Draft
Juba Dance – Orange
Kidkanevil – Problems and Solutions
Kings Of Leon – Because Of The Times
Kutiman – Kutiman [mp3][ysi]
Lack Of Afro – Press On
Lefties Soul Connection – Skimming The Skum
Lotus Tribe – S.E.L.F.: The Art & War Of Misanthropic Philanthropy
Lou Rhodes – Bloom
Lukid – Onandon
M.I.A. – Kala
Madlib the Beat Konductor – Beat Konducta in India Vol 3-4
Norah Jones – Not Too Late
Orgone – The Killion Floor
Prefuse 73 – Preparations
Radiohead – In Rainbows
Robert Glasper – In My Element
Rup – Rup On Zebra
Saul Williams – The Inevitable Rise and Liberation of NiggyTardust!
Scianka – Secret Sister
Sia – Some People Have Real Problems
Speedometer – Four Flights Up
The Budos Band – The Budos Band II
The Haggis Horns – Hot Damn!
The Heavy – Great Vengeance & Furious Fire [mp3][ysi]
The Polyphonic Spree – The Fragile Army
The Shape Of Broad Minds – Craft Of The Lost Art
The Sound Stylistics – Play Deep Funk
Thief – Sunchild
Unkle Ho – Circus Maximus
Voice of the Seven Woods – Voice of the Seven Woods
Wajeed – The War LP
Wax Tailor – Hope and Sorrow
Yesterdays New Quintet – Yesterdays Universe
See, plenty of great albums came out in 2007. If you have the time, I'd advise you to check out any of the above if you haven't heard of them before. Not every artist has millions of dollars worth of marketing push behind them, but that isn't a measure of quality by any means what-so-ever. The Police have reformed and are taking Fergie (?!) on tour with them to sell out crowds around the globe. Sure, The Police were good in their day, but Fergie as SPECIAL guest?! Meanwhile Ohmega Watts played to a couple of hundred people in Brisbane. If enough commercials said so, some people would spread shit on their toast in the morning and wear condoms on their ears. Mass marketing and advertising doesn't mean shit. However, it means that if you genuinely want to get your hands on decent music, then YOU have to put the effort in. Do your research, spend that extra five or ten minutes rather than waiting for your big FM station to ram some shit down your throat. Don't settle for second best, get up off your arse and find the best yourself. The good stuff is there and is more accessible than you think, so go get it.
Belated Happy New Year!
Useful Links: