This is a journey into sound…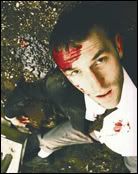 I read something the other day and my first thought was "oh no, he's doing a Shadow", but I read on a bit further, and somehow I came out at the other end thinking that actually, this could be really good. I'm talking about RJD2's decision to dump hip-hop (and Def Jux) to join the label XL for his new electro-rock album. "Wha?!" might be your response, but you did read right.
This new album, so far un-named and not due out till early next year, will have a minimal amount of samples and will see RJD2 playing all the instruments. Apparently he learnt to play a lot of instruments when he was at high school, but the idea for the new album was born out of frustration during the making of 2004's Since We Last Spoke. RJD2 said that he would spend so much time digging for records, then listening to those records, just to find a particular sounding sample and he thought it would be so much easier if he just created the sound via an actual instrument.
RJD2's split with Def Jux is supposedly amicable, yet this deal with XL is not a one off, he has signed for a considerable amount of time. Still, XL have played host to some great acts over the years; The Prodigy, Badly Drawn Boy, The Avalanches, and Ratatat, to name some – so with their emphasis as a label on electronica and rock, RJD2 cant go wrong in that department. Although the new record is yet to be mixed, 39 songs have been recorded for it, RJD2 and his team now just need to chop that down to the 13 or 14 strongest tracks, and they are done. As I mentioned before, they are aiming for around spring 2007 for release.
A return to hip-hop sometime in the future hasn't been ruled out, but for now RJD2 would like to just follow the path he can see unfolding before him. He did cheekily slag off his old work though, claiming that from an engineering stand point they were "jokes" – he felt they were perhaps too artificial. He also claimed that between 1998 and 2003 the only two decent records to be made were D'Angelo's Voodoo and the Poets of Rhythm's Discern/Define – that is to say from a production point of view. So if there's anything we can expect from this new RJD2 material, it's that it will be well produced.
Have something old…
RJD2 – June (Remix)
>> download <<
This download is a sample of the music only and must be deleted from your computer within 24 hours of downloading. This download link will expire on 4th October.
You seen Microsoft's new mp3 player Zune? I've read all the hype, studied the specs, watched the videos, I am a bit of a gadget freak – but I'm one of those people that reads up to the max, then comes to a conclusion (and apologies to any MS employees that might read this), but frankly I feel that buying one of these first generation Zune's will be money wasted. For less money you can buy an iPod with a larger capacity, the Zune has the wireless sharing thing going on, but the chances of knowing many other "early adopters" that you can share with, is gonna be unlikely. I think the Zune could potentially be fantastic, but I for one will hold out till it is slimmer, has a larger hard disk, and more functions.
Apparently Britney will be rapping on her new album, I can literally hear her scraping the bottom of a barrel from here.
My super dope friend in Hollywood wants to let you hear Beck's new single Nausea, so here you go, stream it away kids… Beck – Nausea.
Remember I said I would try to find the Danger Mouse remix(es) of Paris Hilton's stuff? I found one. It's just that track off the video, and it was originally 40 minutes long! The edit I have is bout 15 minutes long, I wont upload it, trust me it isn't worth it, you aren't missing out. Just a few samples of Paris saying "that's hot" over the same tune for 15 minutes.
I've heard Bonobo's new album Days To Come and I have to say it is amazing. Like a cross between Dial 'M' For Monkey and the Live Sessions, but with lots of female singing. It's due out next month on Ninja Tune and I demand that you purchase it.
Right, leave me alone now, I better get back to my job hunt.
Useful links: