Tropidelico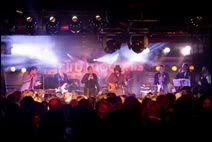 Coming at you in full effect, The Quantic Soul Orchestra are back with a vengence… and a third album: Tropidelico. Duo for official drop 22nd October on Tru Thoughts, this one will knock your socks off with its latin rhythms and funky vibes.
Will Holland (the mighty Quantic) has been killing it live style with the QSO for a few years now, and as well as the aforementioned QSO album releases, there have been some sevens and also last year's Spanky Wilson album, that was pure dynamite by the way. Now we are on the cusp of a third full QSO release and no doubt you want to know just what is in store. Perhaps I can help.
Tropidelico is both 12 tracks and fourty-eight minutes strong. There is a distinct latin sound throughout the album and that is immediately evident with the opening, self-titled, track Tropidelico. You'll have to get your cha-cha on to this feverish starter. I love the paired extremes in this track – the subtleties and complexities. In ways it is understated with the lowkey approach, but the layers are exquisite, they entice and trap. For all its subtleties, it is at times a tad dramatic – in a good way, mind – even those less accustomed to such blatant latin sounds should appreciate the pure energy.
The second track is Panama City and this falls into slightly more familiar funk territory. The brass is strong, and the funky guitar stabs are hypnotic. An early theme to spot in this album, aside from the latin sounds, is the energy it exhumes. It's addictive stuff indeed and Panama City will have you reaching for your dancing shoes! That said, you'd just as equally be comfortable listening to this in a more chilled state of mind or other relaxed surroundings.
She Said What? features J Live, the established and incredible hip-hop emcee. He flows nicely over the mixture of latin keys, cowbells, bass and drums. A definite head-nodder, and more evidence that the mood of this release is set not to change. Check it out for yourself…
The Quantic Soul Orchestra – She Said What?
>> download track
>> buy Tropidelico @ EtchShop
This download link will expire on 21st October.
Track number four is Melodious Wayfarer and it has some cool attitude going on. I'm particularly feeling the drum arrangement on this funk/latin effort. I can just imagine this one kicking arse live. It almost seems audacious in a way that the stylings of funk and latin could be blended in such a way, but then on the other hand… it sounds so damn natural. The rhythms, the brass, that damn energy again. Even if you wanted to hate this I doubt you actually could. I mean what's not to like! Then it's into Regi Bugalu, a slightly calmer, but moodier, deep affair. This is rich and smooth as silk. An album like this could turn anyone into a fan of latin music.
A short, but soulful Interlude takes us into Lead Us To The End (featured on #21 of the JLM Podcast). The sweet sound of Noelle Scaggs accompanies this funky ditty. Currently one of my favourite tracks on the album, although it is a bit like choosing a favourite child! The guitar riff gently dances around the infectious rhythm to the sweet swoon of Noelle's on-point vocals. Simply blissful. San Sebastian Strut takes us deep into the Columbian quarter – an instrumental piece intent on possessing your hips against your own will. The instrumentation is flawless with its amalgamation of sounds – varying from piano to maracas to brass to congas to bass, it goes onwards and upwards.
Track nine of the scheduled twelve is Marrakech. I own a few tracks by that name, but none quite hit the spot like this one. Intentionally raw sounding, this could have come from Lalo Schifrin himself – had a Bruce Lee movie been filmed in South America of course. Who Knows will be recognisable to either jazz affeciandos, RJD2 fans or perhaps both. The bluesy vocal provided by Kabir is as strong as the music it follows. This has a real loungey feel to it, the brass over bass gives it such a powerful backbone.
Father may also leave you thinking "where do I recognise that from?". The glockenspiel rides over guitar stabs and steady percussion to provide a gentle but energetic aural experience. I love the mood, sombre yet uplifting. It's soulful and steady. The last track is totally latin: Los Olvidados closes the album in much the way it was started.
Tropidelico is a very strong album. There is no escaping the latin components, they make for 90% of the guts of this album, but alas no-one is trying to hide this fact. Sure if you don't ordinarily dig such obvious latin tones, yeah you may not feel this, but as I said earlier: I feel that this album would have a greater chance of turning the most casual listeners into latin fans. I stand by a theory that says regardless of genre, with the right people behind the music, success will be met. Forgive me for the negative stance to this conclusion, as I do regret it, but I wanted to ensure that any skeptics would listen to this album and surely make an educated judgement. No doubt most will love this album as much as I do.
Useful links: