Twelve of Twelve
So here is December – a symbolic month if nothing else. The last month of the year, an opportunity to look back on the last twelve months. I will write an obligatory "best of 2007″ style post, but most likely in January – before then I have a bit of catching up to do, or more specifically, I need to help you do some catching up! I've been so busy of late, but I have listened to so much good music, I just need to spit it all out over this here blog.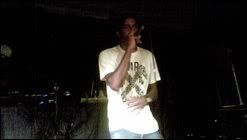 Before I get into listing talented artists and their respective wares, just wanted to give a shout-out to Ohmega Watts and DJ Manwell. I met those two the other week in Brisbane and they are two sound fellas. Spent a fair amount of time talking to Ohmega Watts before his performance. Couldn't have met a more humble and approachable guy. I asked him if we were likely to see any more Lightheaded material any time soon and he told me that they owe Tres Records one more album… so it is coming… I just don't know when! Anyway, he was in town to promote his new album Watts Happening and the live show was brilliant. Supported by the excellent DJ Manwell, Ohmega Watts performed a wide array of tracks from his new album as well as some older material too. The dude has great stage presence, and for someone who (and I quote) says he is "mainly a producer", he certainly is a formidable emcee! Make sure you cop Watts Happening, out now on Ubiquity Records.
Radiohead and Prince have been giving their latest efforts away, but what about those poor souls still trying to actually sell their music? Well this is some of the stuff I've been digging of late…
Cookin' On 3 Burners – Australian funk trio that includes Lanu of The Bamboos. A sort of ground down blend of organ driven funk with jazz stylings, this talented group have just released their debut LP on Freestyle Records, it is called Baked, Broiled & Fried. Check out their mean cover of Feel Good Inc. originally by Gorillaz.
Cookin' On 3 Burners – Feel Good Inc.
>> download track / YSI
>> buy Baked, Broiled & Fried @ Amazon.com
This download link will expire on 17th December.
The Dynamics – Soulful dub act based in Paris, France. The Dynamics shot to the forefront of the DJ radar with their seven inch release of 7 Nation Army, obviously a cover. They then followed this up with a few other covers on seven inch vinyl, including a cracking one of Miss You by the Rolling Stones. Recently signed to the Groove Attack label, their debut album Version Excursions has literally just dropped. Here is that Stones cover…
The Dynamics – Miss You
>> download track / YSI
>> buy Version Excursions @ Amazon.com
This download link will expire on 17th December.
Little Dragon – Based in Sweden, you might recognise the vocalist from this ethereal act from her appearances with the Koop. Little Dragon's downtempo jazzy slant on r'n'b is aurally soothing, whilst reassuringly refreshing. These guys have been around for a while but struck a cord with the recent seven inch double a-side release of Twice and Test, then subsequently their self-titled album on Peacefrog. Check the dreamy chasms of Twice…
Little Dragon – Twice
>> download track / YSI
>> buy Little Dragon @ Amazon.com
This download link will expire on 17th December.
The Sweet Vandals – A Spanish funk outfit, mixing elements of afro-beat and soul, signed to Unique Records. Their emphasis on creating a live, raw sound, fueled with powerful brass and mesmerizing keys will be sure to attract any funky mutha. Not forgetting, of course, the absolutely beautiful vocals of Mayka Edjo – she simply has a voice to die for. Listen for yourself…
The Sweet Vandals – Beautiful
>> download track / YSI
>> buy The Sweet Vandals @ Amazon.com
This download link will expire on 17th December.
Speeka – Hip-hop boys Rob Mac and Matt Smooth combine with instrumentalists and vocalists to create a loungey nu-jazz feel on Wah Wah 45s similar to lots yet also…nothing – a roundabout way of describing uniqueness I suppose! The point with Speeka is that their debut album, Bonfire, is packed with sounds edging on various genres, but each track is packaged up in quite a sincere way, the execution is remarkable…
Speeka – Rag Doll
>> download track / YSI
>> buy Bonfire@ Amazon.com
This download link will expire on 17th December.
Really just a small taster of some great records that have come out recently. Before I forget, if anyone has yet to check out the latest release by Sharon Jones & The Dap-Kings on Daptone Records, 100 Days, 100 Nights, then you want your head checking! Need I say more?
Coming up shortly will be a full review of the new Nostalgia 77 Octet LP Weapons of Jazz Destruction on Tru Thoughts, so look out for that. Also, I am well overdue releasing another JLM podcast. It currently stands at around 42 tracks long, so once I've whittled it all down to something a bit more appropriate, I'll get it released!
Useful links: