Unearthing MySpace Gems
I've got more gems than De Beers. So, as it is Sunday, I'll share five with you. A quick reminder on how this weekly feature works; all pages featured have had less than 10,000 page-views. If you know of any artists on MySpace, with less than that many page-views, that you think I should feature, please let me know. You can either email me to the address at the left, or send me a message and/or friends request (if you are an artist or band) at my personal MySpace page or the >>just like music MySpace page.
Dirt Poor Robins – http://www.myspace.com/dirtpoorrobins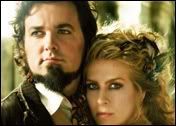 This indie rock duo are actually a married couple. Neil and Kate Robins create fantastic cinematic rock that will enthral you and leave you wanting more. From their powerful take on Eleanor Rigby to the acoustic melodies of Great Vacation, this is an angle on rock not to be missed. The music feels as if it must have been meticulously crafted, painstakingly, then infused with brilliant lyrics and vocals. Total compositions, more than worthy of gracing thine fine ears.
LateBloomer – http://www.myspace.com/latebloomertheartist
Some interesting sounds coming out of Norway, as ever.  LateBloomer's tracks are a blend of electronica, jazz, and pop.  I guess you could say they're on a downtempo lounge kind of tip, specially the ultra-cool We Are All One and Dreaming.  It's the components within the music that really make LateBloomer stand out – so smooth and soulful.  Fans of jazzy downtempo music wont want to miss out on this.
Pitching Woo – http://www.myspace.com/pitchingwoo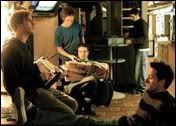 What to say about this Melbourne quintet?  They don't take themselves too seriously, going by their MySpace page – but… their music is seriously good.  Their track The Colder Front is some heavy indie stuff – it's atmospheric electro rock pop, or something.  Anyway, genres and descriptions aside, this is just good music.  Be sure to check out the atmospheric If I Don't Sleep, it's pretty damn addictive.  Dynamic rock for cinematic ears.
Her Daddy is a Guru – http://www.myspace.com/herdaddyisaguru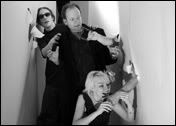 Experimental folk-rock is what this British trio output.  The music is melodic and catchy, the vocals are inspiring and enticing, the total package is more than appealing.  The track Her Daddy is a Guru sounds like an instant classic, plucked straight from a movie soundtrack, beautifully arranged and presented.  You May Be Thinking About Love is more on a country tip, although if anything shows off lead singer Mary's fantastic voice.  Definitely listen to all the tracks on their MySpace page, the last thing you'll do is regret it.
The Q4 – http://www.myspace.com/quadraphoniq
My buddy Linda told me bout these Dutch fellas, and I'm glad she did.  Such beautiful music – think jazz, electronica, fantastic beats.  But it doesn't end there, these three producers like their hip-hop and they certainly know how to manipulate those beats and samples – just check out Look Again.  It's cinematic hip-hop in a similar vein to Wax Tailor, and carries the atmospherics like the music of Amon Tobin and The Cinematic Orchestra.  If that's the way you like your alternative hip-hop served, then grab a plate.
Your ears should be full up after all that aural consumption – I'm too good to you all, I really am.  Anyway, I'm a generous fella, so it comes with the territory.  Don't forget to add those dudes to your MySpace friends list and leave them lots of lovely comments.
Useful links: