Unearthing MySpace Gems
You want gems? You got gems. A quick reminder on how this weekly feature works; all pages featured have had less than 10,000 page-views. If you know of any artists on MySpace, with less than that many page-views, that you think I should feature, please let me know. You can either email me to the address at the left, or send me a message and/or friends request (if you are an artist or band) at my personal MySpace page or the >>just like music MySpace page.
kujan – http://www.myspace.com/kujan2k
Tim Lasseter is kujan, an electronica/hip-hop producer, and he's damn good at it. Each of the tracks on his MySpace page is a bit different, but all ooze quality in an equal capacity. Definitely a bit of a Soulwax thing going on here, the production is tight and presents diverse sounds, creating good wholesome music. The track Pimp Reflections is on an electro-funk tip, whilst Enigma is a more guitar driven effort. Take the time to listen to each track, it's worth it – kujan's beats are impressive.
fbcfabric & reindeer – http://www.myspace.com/fbcfabricandreindeer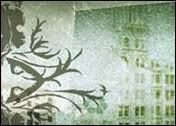 Imagine shoegaze with dark and dirty beats. Ok, stop imagining now and listen to fbcfabric & reindeer – like a cinematic depression that reels you in, chews you up, and swallows you down, deep down. Words can only go so far to describe this sound, by its very nature it needs to be heard first hand, but needless to say it is extremely satisfying. The track Soulsuck is immense, with it's gritty beats and hypnotic melody, not to mention reindeer's fantastic emceeing. These guys are an important part of modern music's painful progression, it's your duty to go forth and seek out.
SON LUX – http://www.myspace.com/sonlux
SON LUX is Ryan Lott and his experimental trip-hop hurts it is so good. He's cheekily labelled his sound as nugaze chant-hop! It will make a lot more sense if you actually listen to his stuff. Ryan has mixed the sounds of down-tempo beats, classical samples, and eerie vocals, to create an astonishing blend of music. you you had me totally captivated, seemingly simple and yet so complex at the same time – I could get lost in this music for eternity, and I'd suggest you go get lost in it right now.
Faux Pas – http://www.myspace.com/iamfauxpas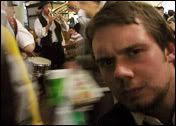 Faux Pas is a man named Tim, Tim is from Melbourne, Tim makes crazy electronic music that is causing quite the stir in Australia right now. Tim is also friends with my buddy Gotye. The Faux Pas sound is an extreme mash up of samples, ranging right through the genres to create a brilliant electro jazz style experience. The track For The Trees is somewhat of an anthem to the Faux Pas sound, and I'm certain any fans of cut-up style electronica will literally be salivating at this. Also check out Water Into Wine for an example of the more downtempo Faux Pas stuff – you shan't regret it… promise.
Telemetry Orchestra – http://www.myspace.com/telemetryorchestra
Charlotte, Gavin, and Steven are Telemetry Orchestra, an electro pop act from Sydney. All I'll say is… how can you ignore a group that list bowler hats and kipper ties as their influences?! What I really love about these guys is the element of surprise – their tracks can be going in one direction and then *bam* break into something else – although it's all very well presented and has a great energy about it. Check Under The Cherry Tree to see what I mean. Telemetry Orchestra produce quite a diverse array of sounds, so make sure you listen to all the tracks on their page.
A real bias towards music of the electronic variety this week, and as ever, five very good pages for you to peruse and abuse. Be sure to add these fine artists to your MySpace friends list and leave them all lots of nice comments. Also, I've recently added Area 27′s Black Sun to the Just Like Music MySpace player, so give that a listen.
Useful links: