Unearthing MySpace Gems
Who's got gems? I've got gems! A quick reminder on how this weekly feature works; all pages featured have had less than 10,000 page-views. If you know of any artists on MySpace, with less than that many page-views, that you think I should feature, please let me know. You can either email me to the address at the left, or send me a message and/or friends request (if you are an artist or band) at my personal MySpace page or the >>just like music MySpace page.
The Mighty Avatar – http://www.myspace.com/themightyavatar
This is two fellas playing the freshest sounding hip-hop to come out of London in a while. G creates tight beats with sharp samples and Jones is lyrically blessed. Although the beats you are hearing are definitely hip-hop and the flow you are hearing is definitely from a London emcee, The Mighty Avatar actually sound like no UK hip-hop you've heard before – simply it is the angle the guys have taken with their music and the genre, making sure it is their own sound. Four tracks to check out on their page, I was particularly feeling Around My Hands and the fantastic Little Man.
echo – http://www.myspace.com/echoarmando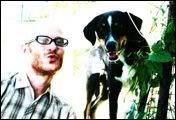 Some electro pop from Toulouse, France comes to your ears in the form of echo. This is pretty calm stuff, in a certain sense, but will definitely play more towards fans of electro sounds. I happen to be a fan of electro sounds and this music therefore sounds fantastic! All four tracks on echo's page are brilliant and each sounds different – it is echo's ability to create compositions with such intricate layers and build ups that really does it for me. Check out desert for something a bit more laid back and carol for something a bit more hectic.
Dave Carter – http://www.myspace.com/davecarter
Mr. Carter plays out his own brand of folk rock from sunny London. His voice has a hint of Damon Albarn about it and his music is clearly rich with influences, but like most great artists, Dave turns it all into something quite unique and personal. Check out Space Boy for a soothing and melodic experience and Amy for your melancholy fix. Another great thing about Dave's tracks is the fine array of instruments that make up the music. He has some violin, cello, keyboards, guitar, accordian, drums, trumpet, harp, and bass in there – and probably even someone playing the spoons too!
Clarence and Friends – http://www.myspace.com/clarenceandfriends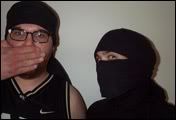 This is a really interesting notion, a chap named Clarence is mainly a beatboxer and seeks to collaborate via MySpace with anyone from any genre, just so long as he thinks they are cool and would sound good working with him. For many hip-hop heads, this is exactly why they use MySpace, but Clarence (or Dub) actually shows no prejudice towards genres and likes to give anything a go. Tracks like Red and A Mug's Game emphasise heavily on guitar, but it works really well. Quite a fresh sound going on, give it a go, you'll probably like it!
Facing The Secrets Of Watergate – http://www.myspace.com/facingthesecretsofwatergate
This trio from South Carolina really know how to bang out the atmospheric indie rock. Think along the lines of Explosions In The Sky, those long build ups and drawn out moments, all created with guitar and percussion. Sometimes chaotic, sometimes calm, but always beautiful – all three tracks on their MySpace page have something slightly different to offer, and it truly is fantastic stuff. If you are really feeling it, they have an EP out now – get it listened to!
I've hit you with another hot five there – cos I'm nice like that. Don't forget to add the artists above to your friends list and leave them comments, every little helps.
Useful links: