Urban Bourbon Party Time!

As I mentioned briefly last Friday, I went to the Brisbane launch of McKenna Bourbon on Thursday night. For any readers familiar with Brisbane, the party was held in the Valley. As a blogger based in South East Queensland I was invited along to see what all the fuss was about, and this opportunity was orchestrated by the wonderful Paul Francis at Zealot.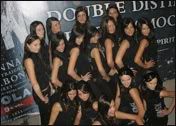 I dragged my Brother along for the ride and when we got there we were met by what seemed like hundreds of ladies all dressed in the same black uniform, greeting us and handing out drink. Was a bit intimidating walking down that red carpet as the momentary centre of attention! In the middle of the room they had a circular bar serving the McKenna double distilled 6% bottles of bourbon and cola, and in the centre of that bar area a Japanese ice sculptor named Kenji was hacking away at blocks of ice, which ended up as an impressive logo and bottle of Bourbon.
So there we were drinking away at this bourbon and cola mix, which surprisingly was very smooth and went down very easily – often I've found these pre-mixed alcoholic cola drinks to be sickly and far too fizzy, but this stuff was honestly good – then all of a sudden Nova (the radio station) approach myself and my Brother and they want us to say a few words bout the drink! God knows if they used our voice recordings on the radio show the next day, but our English accents would've stood out quite a bit.
Then we met up with the aforementioned Paul from Zealot and also another Australian blogger Ian Farmer of Frontiering. Two top blokes, I must say, and were very gracious in introducing us to others at the party, including the very passionate Lion Nathan (company that owns McKenna Bourbon) employee Vimpi Juneja. Vimpi is a man that knows what he wants and makes sure we're all enjoying it! He was mainly responsible for the actual party, and he did a splendid job. Edit: Just for clarification, although Vimpi is an employee of Lion Nathan, it was actually Samantha Angus (also of Lion Nathan) that organised the fantastic party.
So, as well as Kenji the ice sculptor, they also had local graff artist Kasino at the do. He was up on some scaffholding spray painting an image of a woman's head and face, and as ever his work was fantastic – such attention to detail. Kasino was doing his thing just off to one side of the dancefloor, where local DJ Cat Kid was on the wheels of steel. Apparently she's only been DJing for a couple of years, but certainly knew what she was doing. The music was fantastic, proper party breaks, total mixture of genres, but all stuff selected to get people moving on the dancefloor. Later on the very popular Australian DJ Paul Mac took his turn on the decks, and even had some backing singers to perform on some tracks. By this time I was far too busy upstairs drinking the straight bourbon to pay much attention to Paul Mac, but by the sounds of things he was totally rocking the joint.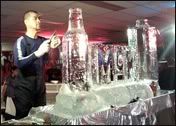 I didn't get a chance to speak to Cat Kid or Paul Mac, which was a shame, but I spent a good 20 drunken minutes chatting away to Kenji the ice sculptor. Such an interesting character, he's been all over the world sculpting ice, including two times at the Winter Olympics. God knows how you discover you are good at sculpting things out of ice, but Kenji certainly is.
All in all a very enjoyable evening. The drink was good, the company was good, and the artists were good. But remember folks; drink responsibly!
As a side note, I picked up my ticket today for Parklife, a one day festival at Brisbane's South Bank at the end of September. Cant wait to see Mix Master Mike, Coldcut, and Cut Chemist!
Mixmaster Mike – Surprize Packidge (Automator Remix)
>> download <<
This download is a sample of the music only and must be deleted from your computer within 24 hours of downloading. This download link will expire on 21st August.
Useful links: