Well Planned Randomness
Hello. Software eh? I cant 100% be certain that my current state of anguish is the fault of one last.fm, but all I know is that my iTunes was fine, then I had to upgrade the last.fm software. I re-opened iTunes afterwards and my library was empty, all playlists gone, all podcasts gone, it basically looked like a fresh install of iTunes. Don't worry, the actual mp3s were still on my computer, but still a major pain in the arse having your library wiped. On a similar note I'd heard bout lots of problems with the new iTunes (version 7, until this point I was still using 6) – tales of lagging, skipping, and general failing. I was planning to hold off installing it, but I figured things couldn't get much worse after my library incident. Anyway, I installed v7 and honest to god, it has been fine. Maybe they fixed the issues?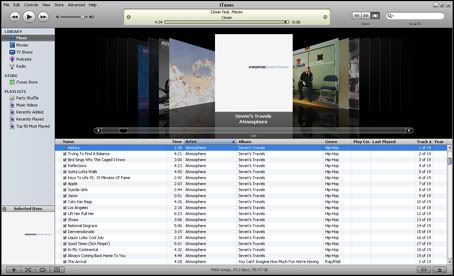 So this new iTunes, if you hate lots of big graphics and unnecessary menu frameworks, don't bother with it – use foobar2000. If the aforementioned qualities leave you drooling over your keyboard, go for it! They have this new cover browser feature, the idea being that it feels like you are actually flicking through your own CD collection… well it doesn't, it's a totally useless feature, but it does look good and we live in a world built around attractive aesthetics, so indulge. Only thing I had to do to get this new feature to work was go through my library and replace all the tiny artwork with versions around 400 x 400px, this was so they didn't appear pixelated in the cover browser view. Essentially this new version of iTunes was created to support the new feature of downloading tv shows and films from the iTunes store. Aside from that it leans more towards the user that has nothing but full albums on their pc, so if you are one of those people with thousands of single tracks, you might find the new features frustrating.
It's amazing how quickly 'we' become attached to mod cons, I mentioned a couple of months ago that when MySpace went down for a whole day the worlds population of teenagers were having synchronised anxiety attacks, well to be honest, and maybe just for a minute, I felt practically numb when I saw my iTunes library had been wiped. Imagine how I'd feel if I lost 10,000 tracks?! Even just the thought of how much time it would take to rip a lot of music from CD all over again makes me feel ill. Still, and I failed to mention this before, the new iTunes has an option to backup your whole music collection to CD or DVD, and if your collection is bigger than one DVD iTunes will create a series of discs for you. I will be using this feature!
In other news, a compilation CD of John Peel's favourite tracks between 1977 to 1987 is being released. The compilation will be called John Peel – Right Time, Wrong Speed: 1977 – 1987 and it is due out on 9th October. It will be a double CD featuring such artists as; Buzzcocks, The Cure, The Jam, Joy Division, Cocteau Twins, The Smiths, Grandmaster Flash, and The Fall.
More news on the Mercury Prize, nothing to do with Arctic Monkeys this time! Apparently a Mercury Prize for kids is being launched to coincide with National Music Week. School pupils will get to decide between ten British acts from varying genres, then the winner will be announced on 31st October after the National Music Week (16th to 20th October). The incentive, organised in tandem by the Government and the music industry, is to encourage better music education in schools.
This week expect a review of Ty's soon to drop album Closer, I think it will be a good read, so don't miss it. Thanks to all the people that have read my recent reviews and left comments on them, I appreciate it. I'm still on the job hunt – if anyone out their wants to employ me, please give me a shout! But once things calm down a bit I'll try and get some more interviews arranged. Plus it's only two weeks till the Parklife festival, so I'll do a write-up of that, let you all know just how good Coldcut, Cut Chemist, and Mix Master Mike were! For now I will leave you with something interesting, and please bear in mind that I'm not a fan of country music, but sometimes you cant ignore certain angles on genres…

Lambchop – Cracker
>> download <<
This download is a sample of the music only and must be deleted from your computer within 24 hours of downloading. This download link will expire on 30th September.
Useful links: